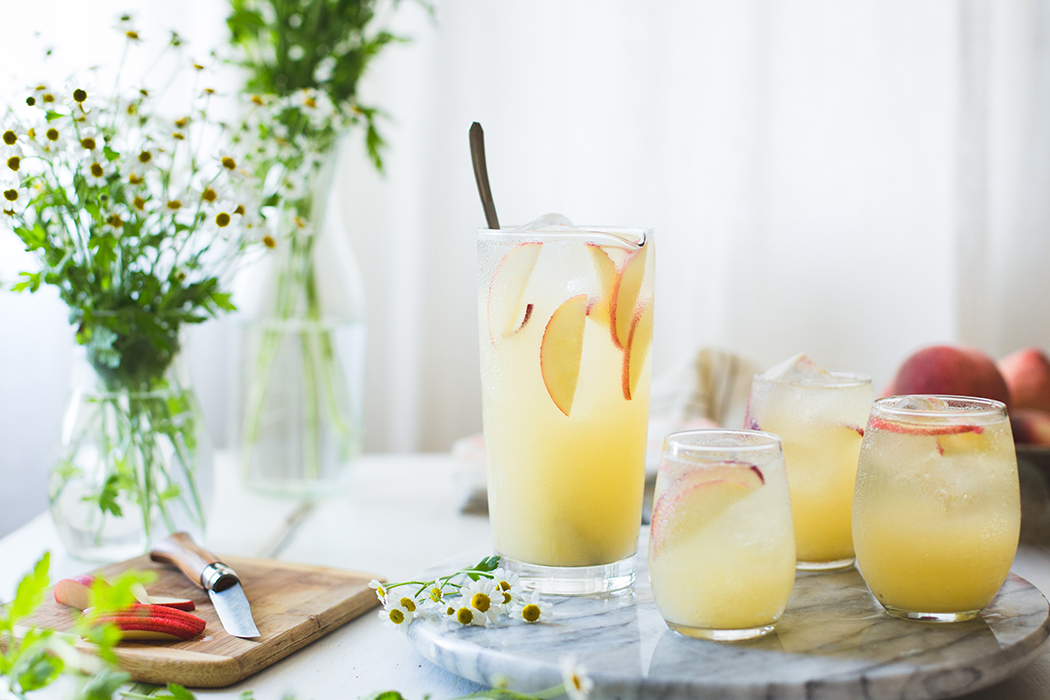 Nectarines and elderflower liqueur set a summery tone for this sparkling white sangria from Alanna Taylor-Tobin. The former pastry chef regularly dips into boozy recipes on her website, The Bojon Gourmet, and we especially love this twist on a summertime staple. Look for more great recipes in her book Alternative Baker: Reinventing Dessert with Gluten-Free Grains and Flours, and over on her website.
2 Tbsp. mild honey
⅓ cup (35 g) finely chopped fresh ginger
2 medium-sized white nectarines or peaches, chopped
2 medium-sized white nectarines or peaches, sliced
¼ cup strained lemon juice
1 (750 ml.) bottle Prosecco or other dry white sparkling wine such as Cava, chilled
1 cup elderflower liqueur, chilled
1-2 cups sparkling water, chilled
In a large measuring pitcher, muddle the honey and chopped ginger until the juices run out of the ginger, approximately 1 minute. Muddle in the chopped nectarines and lemon juice until well crushed, or pulse the mixture in a food processor or with an immersion blender to speed up this process. Stir in half of the Prosecco. Strain the mixture through a fine mesh sieve and into a large punch bowl or pitcher, pressing on the fruit pulp to extract all the good stuff. Discard the pulp. Add the rest of the Prosecco and the sliced nectarines to the sangría. Taste, adding more lemon juice if you feel the drink it needs it. Add ice and sparkling water to the pitcher, and serve within the hour while the drink is bubbly, ladling it into cups with bits of the fruit.
Makes 6-8 servings
Alanna Taylor-Tobin, The Bojon Gourmet