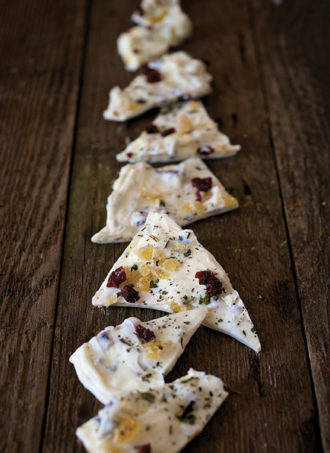 The warm, woodsy aroma of ground Bai Mudan white tea cozies up to creamy white chocolate and bits of dried cherry and spicy ginger in this simple, sweet treat. Tuck a few pieces in a bag, tie with a ribbon and pair with a tin of tea and you've the perfect hostess gift or stocking stuffer.
1 lb. white chocolate, finely chopped
5 tsp. White Peony tea, coarsely ground
⅓ cup dried cherries, coarsely chopped
⅓ cup crystallized ginger, finely chopped
Line a baking sheet with parchment or waxed paper and set aside.
Melt the chocolate by put the chopped chocolate in a dry heat-proof bowl nestled over a saucepan of gently simmering water. Stir the chocolate occasionally with a clean, dry rubber spatula until the chocolate is melted and smooth. Remove from heat and sprinkle in 4 teaspoons of tea, ¼ cup of cherries and ¼ cup of candied ginger and stir until well combined.
Spread the chocolate mixture onto a lined baking sheet and into a rectangle approximately ¼-inch thick. Sprinkle the remaining cherries, ginger and tea evenly over the surface. Set aside to cool in a clean, dry spot. (If it's especially hot or humid in your house, you can pop it into the fridge.) Once the bark has completely hardened, smash it with the dull side of a spoon until it breaks into uneven shards.
Makes approximately 1 pound.