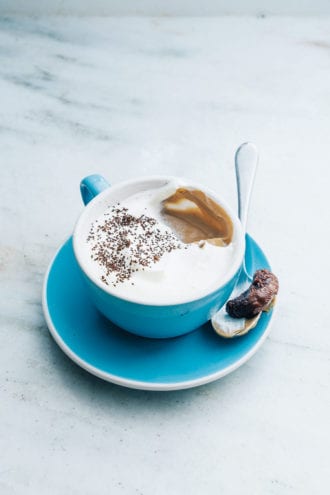 This Vietnamese Coffee Pudding from Zoe Nathan and Laurel Almerinda, co-pastry chefs at Cassia in Santa Monica, is a sweet, creamy indulgence for coffee lovers.
¼ cup espresso beans
1 cup sweetened condensed milk
½ cup whole milk
½ cup heavy cream
1 vanilla bean, split lengthwise
½ cup brewed espresso
3 eggs
3 Tbsp. sugar
2 Tbsp. cornstarch
⅛ tsp. kosher salt
3 Tbsp. butter, cut into cubes at room temperature
¾ tsp. vanilla extract
whipped cream, for serving
Crush the espresso beans with the flat side of a knife or pulse them briefly in a coffee grinder to break them up, but not turn them into grounds.
In a medium saucepan, combine the condensed milk, whole milk, heavy cream, vanilla bean, crushed espresso beans, and brewed espresso. Cook over low heat, whisking occasionally, until it just begins to simmer. Immediately remove from the heat and let steep for 30 minutes.
Whisk together the eggs, sugar, cornstarch, and salt in a separate mixing bowl. Bring the cream mixture back to a simmer and, whisking constantly, slowly pour about a third into the eggs. Pour the combined mixture back into the saucepan and bring it back to a simmer. Do not stop whisking.
Cook for about 4 minutes, or until it has thickened enough to coat the back of a spoon. Strain the custard through a fine-mesh sieve into a clean bowl and whisk in the butter and vanilla extract.
Press a piece of plastic wrap to the surface of the custard to prevent a skin from forming and refrigerate for at least 4 hours until chilled through and set. Serve, chilled, with a dollop of whipped cream.
Reprinted with permission from Eat. Cook. L.A. by Aleksandra Crapanzano, copyright 2019. Photographs by Ray Kachatorian. Published by Ten Speed Press, a division of Penguin Random House, Inc.
---
Did you enjoy this recipe? Sign up for our newsletter and get our favorite drink recipes of the moment in your inbox every month.