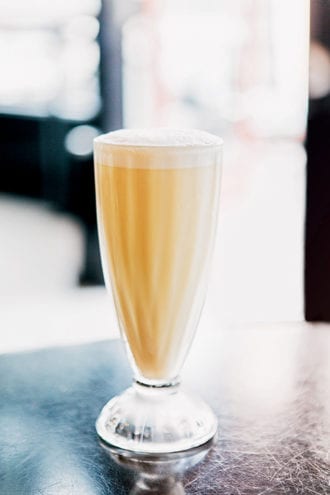 San Francisco's Ice Cream Bar breaks with egg-cream tradition by adding both egg and cream to their extra-rich mixture.
1 large egg yolk (pasteurized if you like)
½ oz. heavy cream
2 oz. turbinado sugar syrup (see below)
2 dashes vanilla extract
Chilled soda water
Glass: tall glass
Tools: shaker, strainer, pair of large glasses or shaker tins
Combine all of the ingredients (except the soda water) in a shaker and add ice. Shake, then strain into a large chilled glass. Pour the soda in until the froth nearly reaches the top.
Ice Cream Bar, San Francisco
---
Did you enjoy this recipe? Sign up for our newsletter and get weekly recipes and articles in your inbox.