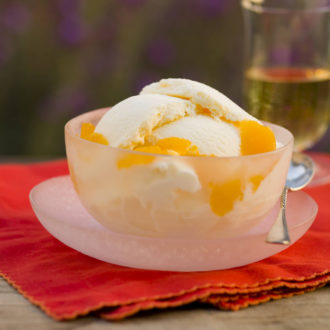 The classic creamsicle grows up with this vodka-spiked and tangerine-flecked ice cream from Farmers' Market Desserts.
Ice Cream
1 cup heavy cream
¾  cup granulated sugar
2 large eggs
½ cup whole milk
¼ tsp. kosher salt
1½ cups fresh tangerine juice (from about 12 tangerines)
2 Tbsp. mandarin or plain vodka
¾  tsp. pure vanilla extract
Topping
4 tangerines
1 tsp. superfine sugar
Mint sprigs
To make the ice cream, stir the cream and sugar in a heavy saucepan over medium heat until steam rises from the surface and bubbles begin to form along the edge of the pan.
Whisk together the eggs, milk and salt in a bowl until well combined. Whisking constantly, slowly pour in the hot cream, and return the mixture to the saucepan. Cook over medium-low heat, stirring constantly and scraping the bottom with a wooden spoon until the mixture thickens enough to coat the back of the spoon, about 6 minutes. Do not let the mixture boil. Pour through a fine mesh strainer into a bowl.
Place the bowl into an ice bath and stir occasionally until almost cool. When it is close to room temperature, remove from the ice bath, stir in the tangerine juice, vodka and vanilla. Cover and refrigerate for several hours until very cold, or place in the freezer for about 1 hour.
Freeze in an ice cream maker according to the manufacturer's instructions until it is no longer becoming any firmer, about 30 minutes. Quickly pack the ice cream into a chilled quart container and "thunk" the container on the countertop a couple of times to remove air pockets. Press a piece of plastic film or waxed paper directly on top of the ice cream before covering. Freeze until the desired consistency, about 2 hours, or up to 1 week.
To make the topping, finely grate the zest from two of the tangerines and set aside. Peel all four tangerines and remove any of the white pith. Using a sharp paring knife and working over a bowl to catch the juices, hold one tangerine in your hand and cut between the membranes and the segments to release the segments into the bowl. Squeeze the membranes over the bowl to catch the remaining juices. Repeat with the remaining three tangerines. Gently stir in the sugar and reserved zest until the sugar is completely dissolved. Use immediately, or refrigerate in a tightly covered container for up to 1 day.
Scoop the ice cream into small bowls and top with the tangerine sections, drizzling a bit of the juices over the ice cream. Garnish with the mint sprigs.
Jennie Schacht, Farmers' Market Desserts