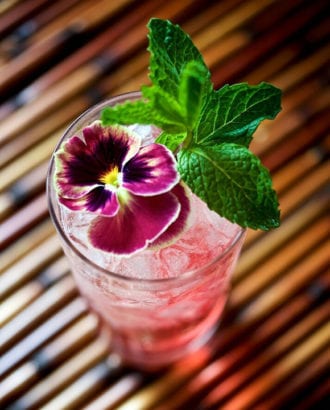 Leave it to Hale Pele's Mindy Kucan to add a little island flair to rosé season. Lemon and a perky grapefruit-cinnamon syrup help transports this highball into tropical territory.
2 oz. rosé (Kucan uses Underwood)
½ oz. gin
1 oz. fresh lemon juice
¾ oz. grapefruit-cinnamon syrup
1 oz. sparkling water
Glass: Collins
Garnish: spring flowers, mint sprig
Combine the rosé, gin, lemon juice and syrup in a Collins glass. Fill with crushed ice and top with 1 oz. sparkling water. Stir. Garnish with spring flowers and a mint sprig.
Grapefruit-Cinnamon Syrup: Combine 1 part sugar and 1 part water in a pot and bring to a boil. Once the sugar is dissolved, add ground cinnamon to taste. Wait until the mixture cools, then add 1 part grapefruit juice. Keep refrigerated for up to 2 weeks.
Mindy Kucan, Hale Pele, Portland, Oregon