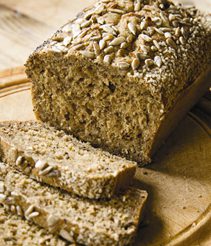 Want to do a little cooking with beer? Then try this hearty sunflower stout bread.
4 cups organic malthouse or granary flour
¾ cup oatmeal bran
¼ cup sunflower seeds plus extra for topping
1 Tbsp. each poppy and sesame seeds plus extra for topping
1 ½ tsp. fine sea salt
1 Tbsp. barley malt extract (available in health food stores)
1 heaping Tbsp. molasses or honey
5 oz. milk stout
1 ½ tsp. easy blend yeast
1 Tbsp. organic sunflower oil plus extra for greasing the tin
Pour flour, bran, seeds and salt into a large bowl and mix well. If your flour is cold, warm it in the microwave for 30 seconds. Measure 1 ¼ of warm water into a jug and stir in the barley malt extract and molasses or honey. Add stout.
Sprinkle the yeast over the flour mix and form a hollow. Pour in ⅔ of the beer and the oil, and stir with a wooden spoon, gradually adding as much extra liquid as the flour will absorb. (The consistency should be wetter than a normal loaf, more like that of fruitcake.) Keep stirring until the dough begins to come away from the sides of the bowl (about 2 minutes).
Pour dough into a well-greased bread pan, pressing it down evenly. Cover with plastic wrap or a damp cloth and leave to rise for about 25–30 minutes until the surface of the loaf is about three quarters of an inch from the top of the tin.
Meanwhile, heat oven to 400 degrees F. Gently brush top of the loaf with lightly salted water, then spoon or shake the seeds in 3 vertical lines down the length of the bread to give you a striped topping. Bake for about 40 minutes.
Using a butter knife, loosen sides of the loaf away from sides of the tin, then carefully ease it out and return the loaf to the oven for a final 5 minutes for the base to crisp up. Take loaf from the oven and leave on a cooling rack until completely cold. Let sit for a couple more hours to firm up before slicing.
From An Appetite for Ale by Fiona and Will Beckett