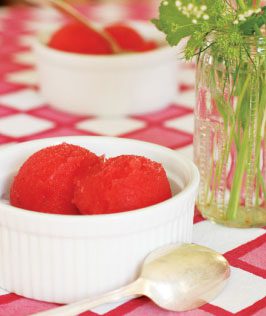 A delicate balance of strawberries and sugar is the key to playing up the frizzante, Prosecco's lightly sparkling quality, in this delicious sorbet from writer and food stylist Ellen Jackson. Sorbet is usually churned smooth in an ice cream maker, but these ingredients lend themselves equally well to granita. Made with the same ingredients as sorbet, granita is a feathery-light frozen dessert textured like shaved ice.
3 cups ripe strawberries, lightly mashed
½ cup sugar
1½ cups Prosecco
3 Tbsp. fresh lemon juice
Pinch salt
Set up a double boiler by arranging a stainless steel bowl over a saucepan filled with 1 to 2 inches of simmering water.  Put the strawberries and sugar in the bowl and stir occasionally until the sugar has dissolved. The berries will have broken down slightly but shouldn't be mushy. Remove the bowl from the heat. When the berries are cool, purée them. Add the prosecco, lemon juice and a pinch of salt. Makes 1 pint.
For the sorbet: Freeze according to your ice cream machine manufacturer's instructions.
For the granita: Pour the mixture into a shallow pan approximately 8 by 8 inches and place it in the freezer. Every 30 minutes for the next 2 to 2 ½ hours, roughly stir up the mixture with the tines of a fork until no liquid remains and the granita has a light, icy texture. Freeze until completely frozen, 8 hours to overnight.
Ellen Jackson, Food Print Style