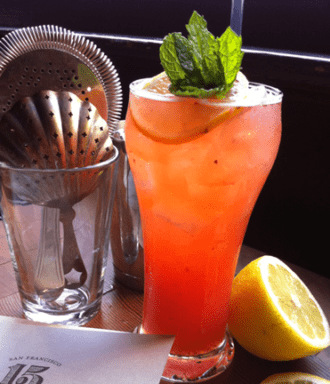 Vodka, vermouth and fresh strawberries make for a light and refreshing cocktail that you'll want to revisit all summer long.
2 oz. vodka
3/4 oz. Dolin Blanc vermouth
1 1/2 oz. fresh strawberry purée
3/4 oz. fresh Meyer lemon juice (or sub 3/4 oz. fresh lemon juice and 1 barspoon Creme Yvette)
3/4 oz. rich simple syrup (2:1)
1 dash rose water
1 1/2 oz. seltzer
Tools: shaker, strainer
Glass: Collins
Garnish: lemon wheel and fresh mint
Combine all ingredients, except seltzer, and shake briefly to incorporate.  Add the seltzer to shaker tin and strain all ingredients into an ice-filled Collins glass. Garnish
Strawberry purée: Remove the tops from 1 pint of fresh strawberries and blend until smooth. Push through a sieve into a clean jar and store refrigerated for up to 1 week.
Scott Baird for 15 Romolo, San Francisco, CA