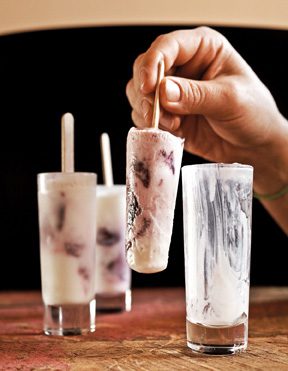 Sweet, tart and creamy, these pops take on a grownup twist with a spirited nip of blanco tequila.
8 oz. fresh or frozen cherries, stemmed and pitted
⅓ cup confectioners' sugar
2 tsp. fresh lemon juice
2 Tbsp. blanco tequila
1 ½ cup whole milk
½ cup granulated sugar
¼ tsp. salt
1 vanilla bean, split lengthwise, or 1 tsp. pure vanilla extract
1 ½ cups sour cream
In a non-reactive syrup cook the cherries with the confectioners' sugar over medium heat, stirring until the mixture comes to a boil and the sugar has dissolved. Lower the heat, stir in the lemon juice and simmer, stirring often, until the syrup has thickened and has a consistency like maple syrup. Remove from heat, stir in the tequila and refrigerate until completely chilled.
Drain the cherries, reserving the liquid for another use. Combine the milk, granulated sugar and salt in a medium saucepan. If using a vanilla bean, scrape the seeds into the mixture, then add the pod. Cook over medium heat, stirring until the sugar has dissolved and the mixture just comes to a boil.
Remove from heat, add the sour cream and stir with a whisk until completely smooth. If using vanilla extract, stir it in at this point. Let cool slightly, then discard the vanilla bean pod and refrigerate the mixture until completely chilled.
Put a bit of the sour cream mixture into each of the molds, to a height of about 1-inch. Freeze until the mixture begins to set, about 30 minutes.
Divide the drained cherries among the molds, then pour in the remaining sour cream mixture, dividing it evenly among the molds.
If using conventional molds, snap on the lid and freeze until solid, 3 to 4 hours, if using glasses or other unconventional molds, freeze until the pops are beginning to set (45 minutes to 1 hour), then insert the sticks and freeze until solid, 3 to 4 hours. If using an instant ice pop maker, mix the cherries with the sour cream mixture before pouring it into the molds, then follow the manufacturer's instructions.
Reprinted with permission from Paletas: Authentic Recipes for Mexican Ice Pops, Shaved Ice & Agua Frescas by Fanny Gerson. Published by Ten Speed Press.