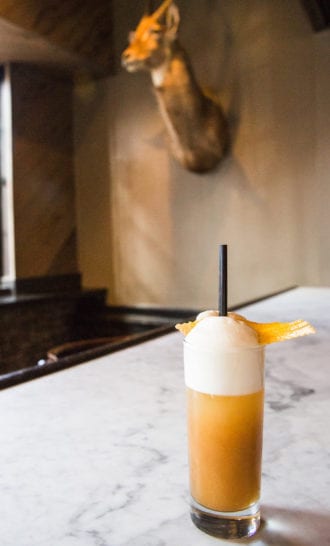 Named after a short story in For Your Eyes Only by Ian Fleming where James Bond enjoyed a Negroni in Rome, the flavor of this brooding fizz was inspired by the way the classic cocktail's flavor shifts slightly when you add a dash of salt. "I loved those I had tried before and wanted one in a long drink format," says bar director Jesse Carr. "The fizz was the best fit and helped meld the classic flavors together of juniper, citrus, and dark sweet raisin notes from the vermouth."
¾ oz. gin
¾ oz. sweet vermouth
¾ oz. Gran Classico
¾ oz. fresh grapefruit juice
¼ oz. fresh lemon juice
½ oz. simple syrup (1:1)
1 egg white (pasteurized, if you like)
1 pinch sea salt
Club soda, to top
Tools: shaker, strainer
Glass: Collins
Garnish: half wheel of grapefruit
Combine all the ingredients (except club soda) in a shaker and shake until emulsified. Add ice and shake until chilled. Strain into a Collins glass over fresh ice. Top with club soda and garnish.
Jesse Carr, Balise, New Orleans
---
Did you enjoy this recipe? Sign up for our newsletter and get our favorite drink recipes of the moment in your inbox every month.