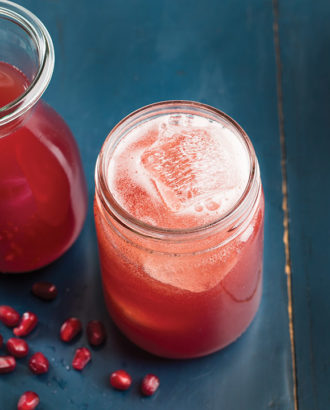 This homemade pomegranate ginger ale has a distinct advantage over many of the store-bought varieties—it tastes like real ginger. And here, the addition of pomegranate juice softens the gingery spice beautifully.
2-inch knob of fresh ginger, thinly sliced
½ cup granulated sugar
1 cup pomegranate juice
16 oz. club soda
Heat the sliced ginger, sugar and 2 cups of water in a heavy-bottomed pot over medium-high heat. Bring to a boil and then reduce heat and simmer for 10 minutes. Strain the syrup, discarding the ginger, and let cool completely. Stir in the pomegranate juice and chill.
When you're ready to make your soda, add 4 ounces of the syrup to a 10-ounce ice-filled glass and top with club soda. Store any remaining pomegranate ginger syrup in an airtight container in the refrigerator for up to a week. Makes 4 servings.