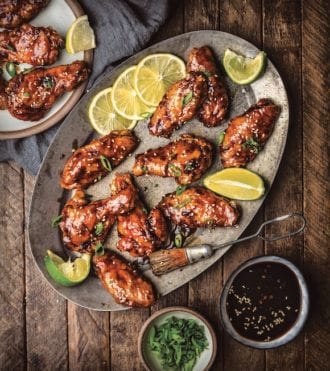 These sweet and spicy chicken wings from the new cookbook Cork and Knife by Emily and Matt Clifton, founders of the cooking blog Nerds with Knives, get an extra punch of flavor from a healthy pour of rum.
3 lb. chicken wings, split, wing tips discarded
1 Tbsp. aluminum-free baking powder
1¼ tsp. kosher salt
1 Tbsp. neutral oil, such as grapeseed oil
6 Tbsp. plum jam (or other preserves)
6 Tbsp. Chinese black or balsamic vinegar
¼ cup white rum
2 Tbsp. soy sauce
2 Tbsp. honey
2 tsp. chili-garlic sauce (such as sambal oelek or sriracha—add more if desired)
1 scallion, thinly sliced, for garnish (optional)
2 tsp. toasted sesame seeds, for garnish (optional)
Line a rimmed baking sheet with aluminum foil, and set a wire rack inside. Dry the chicken wings well with paper towels, and add them to a large bowl. Add the baking powder and salt and toss until each wing is thoroughly and evenly coated; this is easiest to do with your hands. Place the wings on the rack, leaving a little room between each one. Place the baking sheet in the refrigerator and allow to chill, uncovered, for at least 8 hours and up to 24 hours.
Preheat the oven to 450°F, and set a rack in the middle position. Brush a thin layer of oil on both sides of the wings. Cook for 45 minutes to an hour, flipping the wings once or twice until they are light golden brown on both sides and very crisp.
While the wings cook, in a medium, heavy saucepan, simmer the jam, vinegar, rum, soy sauce, honey and chili-garlic sauce, stirring occasionally, until reduced by about a third, and thick enough to coat the back of a spoon, about 10 minutes. Remove from the heat. The glaze will thicken as it cools.
Remove the wings from the oven, and transfer them to a clean large bowl. Pour half the glaze over the wings and toss to coat well. Let stand for 5 minutes, then toss again with the rest of the glaze. Sprinkle with scallions and sesame seeds, if desired, and serve hot. Makes about 30 wing pieces.
Reprinted with permission from Cork and Knife: Build Complex Flavors with Bourbon, Wine, Beer and More by Emily and Matt Clifton, Page Street Publishing Co. 2019.
---
Did you enjoy this recipe? Sign up for our newsletter and get weekly recipes and articles in your inbox.