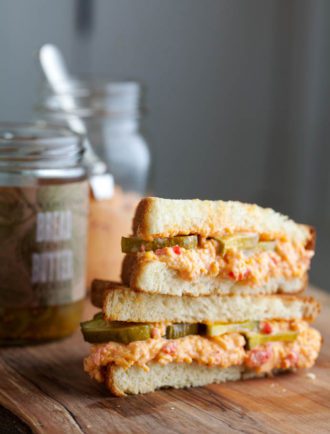 A guilty pleasure if there ever was one, pimento cheese is a staple of southern snacking. This version includes the tangy, piquant additions of pickle juice and hot sauce.
1 tsp. finely chopped garlic
6 Tbsp. mayonnaise
2 Tbsp. dill pickle brine
1 ½ tsp. Dijon mustard
1 tsp. hot sauce
½ tsp. kosher salt
¼ tsp. freshly ground black pepper
⅓ cup finely chopped red bell peppers or red pimentos from a jar, drained
1 lb. cheddar cheese, finely grated
In a bowl mix together the garlic, mayonnaise, pickle brine, mustard, hot sauce, salt and pepper. Stir in the red pimentos and cheese. Store refrigerated for up to 2 weeks.
Makes about 3 cups.
Adapted from Blackberry Farm, Walland, Tennessee