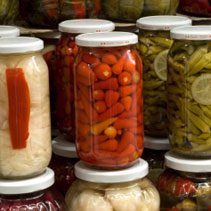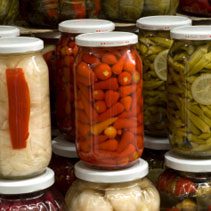 Try these delicious veggies in your next Bloody Mary.
4 cups water
1 cup red wine vinegar
¾ cup white vinegar
2 tbsp. kosher salt
4 tbsp. chopped garlic
1 tsp. each: peeled and chopped ginger, whole black peppercorns, celery seeds, mustard seeds and dill seeds
1 sliced jalapeño pepper
1 large bunch fresh dill
1 fresh grape leaf (optional)
vegetables of your choice
Thoroughly wash and dry a large glass jar and place a grape leaf at the bottom of the jar (this acts as a preserving agent, but it's optional). Pack tightly with fresh dill sprigs and your choice of vegetables and set aside. Combine remaining ingredients in a saucepan and heat on low for 5 minutes. Remove from heat and cool to room temperature. Once cooled, pour brine over packed vegetables and dill, cover with lid of jar and keep at room temperature for one hour before refrigerating. Your pickled garnishes will be ready in one week and will keep covered in the refrigerator for a month.