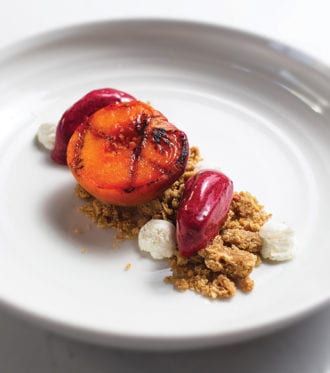 The bittersweet Negroni is so fiercely loved around the globe that it can now be found in a range of guises, including in food. Alisha Ivey, pastry chef at Italian restaurant Il Solito in Portland, Oregon, re-creates the Italian cocktail in a crumble-topped dessert made using fruit that's first poached and then grilled (use peaches just on the edge of ripeness for better infusion of flavor). "The peach adds sweetness to the classic combination and plays well with the earthy flavors of gin and bitterness of Campari," she says.
1½ cups gin
1½ cups Campari
1½ cups sweet vermouth
1 cup agave nectar
½ cup water
2 vanilla beans or 2 Tbsp. vanilla bean paste
Zest of 1 lemon
Zest of 1 orange
4 semi-ripe peaches
Crumble
1 cup all-purpose flour
¾ cup rolled oats
½ cup brown sugar
½ tsp. baking powder
½ tsp. cinnamon
¼ tsp. kosher salt
4 oz. cold butter (cut into small cubes)
To make the crumble, preheat your oven to 350 degrees F. While the oven is heating, combine the crumble ingredients in a food processor. Pulse until the mixture begins to clump together, then remove it from the food processor and spread it onto a parchment-lined baking sheet. Bake the crumble for 10 minutes, stir, then return it to the oven for another 5-8 minutes or until the mixture is golden brown. Remove the crumble from the oven and set it aside to cool.
To make the peaches, cut each peach in half and remove the pits, then set the fruit aside. Combine the remaining ingredients in a medium saucepan and stir over low heat until all ingredients are combined and the liquid reaches a gentle simmer. Place the halved peaches in the saucepan, and cover the top with a piece of parchment paper cut to the size of the pan.
Let the peaches simmer in the mixture for 5 minutes, then flip them to ensure they're evenly coated. After another 5 minutes, test the fruit using a paring knife or cake tester—the knife should slide through easily, but the peaches shouldn't feel mushy. Once the peaches are ready, use a slotted spoon to remove them from their cooking liquid and set them aside, reserving the liquid.
Heat a grill to medium heat (about 350 degrees F) and place the peaches flesh-side down on the grill rack, cooking until grill marks appear. Remove the peaches from the heat and place them on a serving platter, topping with whipped cream, berry sorbet, if desired, and the crumble. Drizzle the leftover poaching liquid on top and serve immediately.
Alisha Ivey, Il Solito, Portland, Oregon 
---
Did you enjoy this recipe? Sign up for our newsletter and get our favorite drink recipes of the moment in your inbox every month.