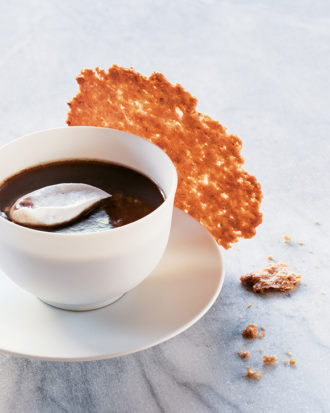 Chef Tal Ronnen of LA's vegan restaurant Crossroads would like people to know that, with the exception of milk chocolate, chocolate is completely vegan, so there's "no need to resort to carob."
2 cups unsweetened plain almond milk
1 cup canned coconut milk
½ cup unrefined cane sugar
4 Tbsp. butter substitute (such as Earth Balance)
¼ cup instant espresso powder (such as Medaglia d'Poro)
2 Tbsp. unsweetened cocoa powder
2 tsp. pure vanilla extract
½ tsp. kosher salt
4 oz. 63-percent dark chocolate, chopped into chunks
coconut whipped cream for serving* (optional)
Combine the almond milk, coconut milk, sugar, butter substitute, espresso powder, cocoa, vanilla, and salt in a large saucepan over medium heat. Whisk to blend, and bring to a gentle simmer, whisking until the sugar is dissolved and the ingredients are well incorporated.
Add the chocolate chunks and whisk constantly to melt and incorporate them. Be careful not to allow the hot chocolate to boil or scorch.
Serve warm in espresso cups, topped with a dollop of coconut whipped cream if you like.
Coconut Whipped Cream
2 15-ounce cans coconut milk, chilled for at least 24 hours in the refrigerator
½ cup confectioners' sugar, sifted
1 vanilla bean, split and scraped, or 1 Tbsp. vanilla bean paste
Combine all ingredients and whip with an electric hand mixer until thick.
Excerpted from Crossroads by Tal Ronnen with Serafina Magnussen (Artisan Books). Copyright © 2015. Photograph by Lisa Romerein.