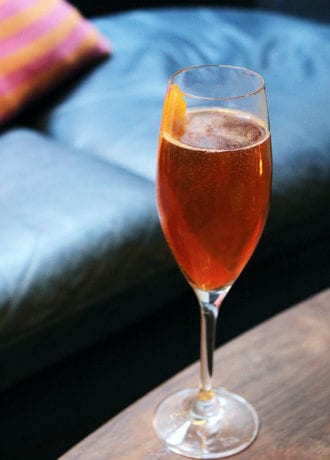 This bold cocktail is a nod to the Mason & Rook hotel, where Radiator is located.
1 oz. high-proof bourbon
½ oz. Cynar 70
4 dashes Angostura bitters
4 dashes orange bitters
Prosecco
Tools: mixing glass, barspoon
Glass: flute
Garnish: orange peel
In a mixing glass, combine the bourbon, Cynar and bitters with ice. Stir until chilled. Strain into a chilled flute, top with processo. Twist a large orange peel over the drink and use as a garnish.
Sarah Rosner, Radiator, Washington, D.C.
---
Like what you see? Get more of the best of liquid culture when you sign up for our bi-monthly magazine. Subscribe now and save up to 59%—it's just $21.95 for one year or $32.95 for two years. Click here for details.