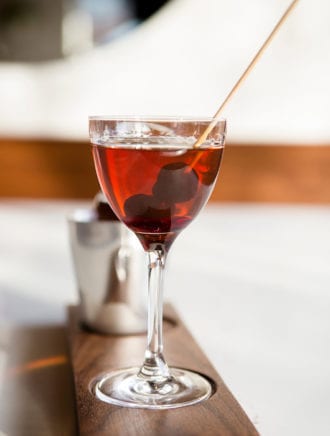 With more bars focusing on classic cocktails, many are looking for subtle ways to play off of traditional recipes. At Wonderly in Portland, Oregon, owner Kate Wood creates a house vermouth blend—one part Carpano Antica for its warm vanilla notes, and one part Dolin Rouge for its herbaceous qualities—to amplify the richness of the classic Manhattan. "When I was playing around with the Manhattan, the flavor combo of both vermouths created a profile that was exactly what I was looking for. Throw in the orange bitters for a tiny bit of added sweetness and citrus and it's a Manhattan I'm happy to serve and drink."
3 oz. bottled-in-bond bourbon
1 oz. house sweet vermouth blend (1:1 Carpano Antica to Dolin Rouge)
5 dashes Angostura bitters
3 dashes Regan's orange bitters
Tools: mixing glass, barspoon, strainer
Glass: Nick and Nora
Garnish: cherries on a skewer
Stir all of the ingredients together in a mixing glass with ice until chilled and diluted. Strain into a chilled glass, then strain the remainder of the drink into a mini carafe that sits on ice. Garnish.
Kate Wood, Wonderly, Portland, Oregon
---
Did you enjoy this recipe? Sign up for our newsletter and get weekly recipes and articles in your inbox.