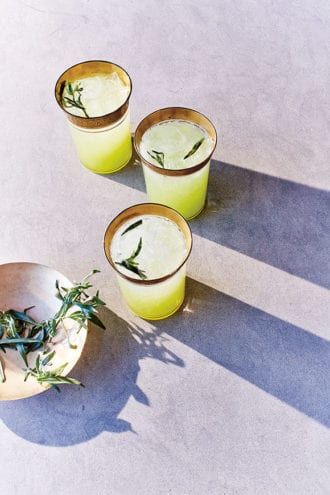 Savory tarragon meets sweet honeydew in this lemon soda from April White's book Lemonade with Zest. These measurements make enough for a pitcher, to serve 4-6.
⅔ cup still water
⅔ cup granulated sugar
2 sprigs fresh tarragon
1 medium ripe honeydew
1 cup fresh lemon juice
⅔ cup cold sparkling water
Remove the rind and seeds from the honeydew. Roughly chop the honeydew flesh and transfer it to a blender. Blend until fully liquid. Strain the purée through a fine-mesh sieve, pressing on the solids with a rubber spatula. For smoother lemonade, strain twice.
Reserve the liquid and discard the solids. Measure 2 cups honeydew juice. In a pitcher, stir together the syrup, honeydew juice, and lemon juice. Refrigerate until cold. Before serving, stir in the sparkling water. Serve over ice cubes.
Tarragon syrup: In a saucepan over medium-low heat, bring the still water and sugar to a simmer, stirring occasionally, until the sugar dissolves. Remove from the heat and add the tarragon. Cool the syrup to room temperature and refrigerate overnight. Remove the tarragon from the syrup.
Reprinted from Lemonade with Zest by April White with permission by Chronicle Books, 2018
---
Did you enjoy this recipe? Sign up for our newsletter and get our favorite drink recipes of the moment in your inbox every month.