No. 33: September/October 2011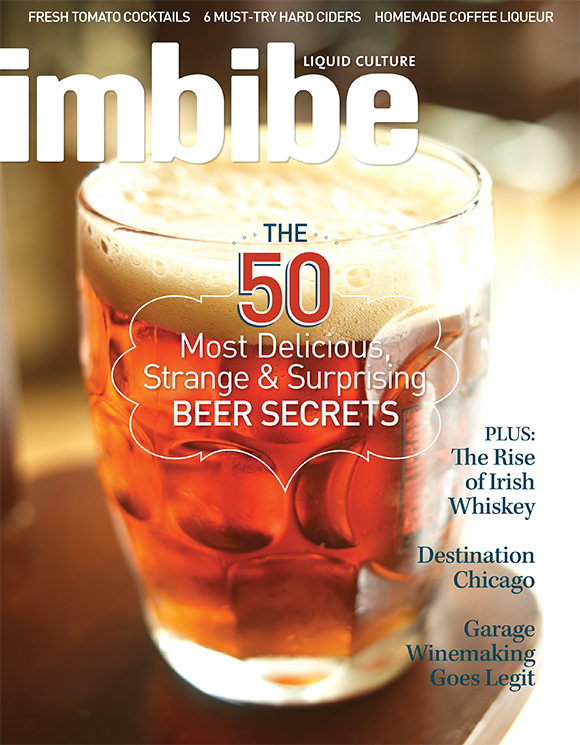 Recipe

Cocktails

Tamarind Sour, El Presidente, Breakfast for Dinner, Spaghetti Western, La Mancha, The Lost Barrel, Tipperary, Wilde Heart, Café com Laranja

Cravings

Beef and Stout Pie, Beer Batter Crépes, Belgian Ale and Chocolate Pretzel Ice Cream, Root Beer Funnel Cakes

How-to

Homemade Coffee Cordial
Features

Brewery Confidential

50 obscure, mysterious, classified and otherwise surprising secrets about the world's oldest libation. Read More »

Pot of Gold

No longer a sleeping giant, Irish whiskey is flowing in American bars like never before. Read More »

House Wines

For garage-based winemakers, home is where the juice is.

Rise Up Brewing

Chicago has finally made itself into a bonafide beer town.

Connect Four

A quartet of coffee pros cultivates a community inspired by their love of the bean.
Departments

Uncorked

A tamarind syrup for seasonal sipping, where to go for a great Negroni, and Decemberists bassist Nate Query on his homebrewing habits.

Old Fashioned

David Wondrich gives Cuba's El Presidente the royal treatment.

Distilled

Is a vintage ceramic whiskey jug worth its weight? What's the best way to break a wax seal? We've got answers. Ask your own question by clicking here.

Taste-Test

Six hard ciders you can sink your teeth into.

Gear

Which travel tea infuser outsmarts the rest?

Elements

Fresh tomato cocktails are ripe with flavor. Read More »

Characters

Bartending icon Ray Foley is a most charming curmudgeon.

Mix It Up

Wake up and smell this simple DIY coffee cordial.

Scene Scout

The future is bright at Sunshine Tavern in Portland, Oregon.

Cravings

Root beer funnel cakes bring the county fair to your kitchen.

Quench

An ode to a Brooklyn dive and its one-of-a-kind bartender. Read More »