No. 53: January/February 2015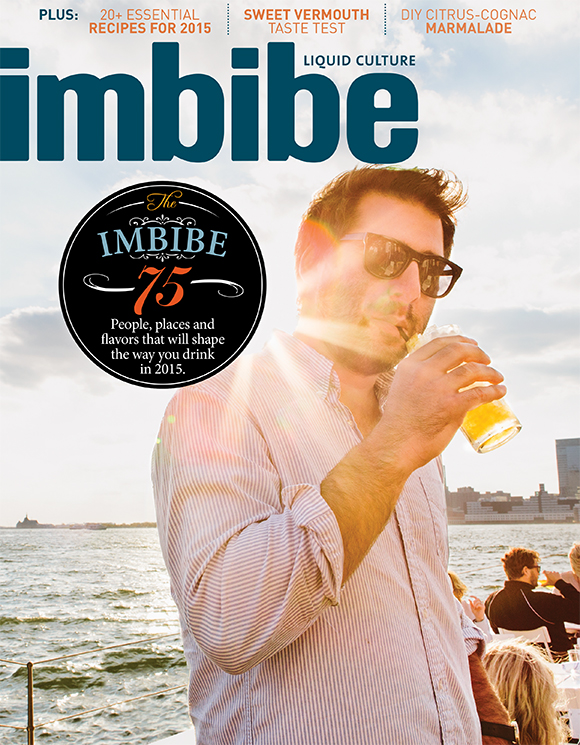 RECIPES

Cocktails

Me & Her, Naranja China Punch, Lady Germaine, Tarragon Royale, Mexican 75, Alter Ego, Thai 75, Scottish Beekeeper, Luca Not Dead, Brandy Crusta, Turn Signal, The Getaway, Captain's Daughter, Saint Alban Cocktail, Fogerty, Orleans Barber, Outcast of the Islands, Jalisco Stroll, Ladies' Blush, Moi, Voulez-Vous

Alcohol-Free

G&B Coffee's Almond-Macadamia Milk

Food

Beef Cheek & Wine Tamales

Mix It Up

Meyer Lemon & Grapefruit Marmalade
Features

The Imbibe 75

Our picks for the people, places and flavors that will shape the way we drink in 2015.
Departments

Uncorked

An old-timey liqueur makes a comeback, seasonal kumquat cocktails, the anatomy of a crusta and the French 75 seven ways. Plus, chef Christopher Kostow on the terroir of food and his wine-industry influences.

Behind the Bar

Raising a glass, Colonial style.

Taste Test

Sweet vermouth continues to be one of a cocktail's essential elements.

Gear

Cocktail mixing glasses that blend form and function.

Mix It Up

Dress up your cocktails with a bittersweet citrus preserve.

Cravings

Red wine makes a favorite comfort food even more satisfying.

Quench

Finding traditional bubble tea in Taipei isn't as easy as you'd think.
Bonus Articles

The making of ABV, our 2015 Bar of the Year. Read More »

Bartender of the Year Derek Brown's perfect day in DC. Read More »

2015 Imbibe 75er Christian DeBenedetti on how to build a brewery. Read More »

Berlner weisse—5 to try. Read More »

An imbiber's guide to Singapore. Read More »

2015 Imbibe 75er Katie Parla's favorite drinking spots in Rome. Read More »

A Q&A with Paris wine blogger Aaron Ayscough. Read More »

The man behind our 2015 Wine Bar of the Year, Racines, shares his top wine picks of the moment. Read More »

Bartender turned juice maven (and Imbibe 75er) Lindsay Nader's top tips for juicing perfection. Read More »