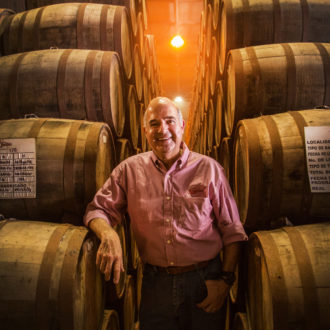 Tequila Don Julio Master Distiller Enrique de Colsa's journey with tequila began after college in Mexico City, where he became an industrial engineer. He worked in liquid processing, selling equipment to different spirits and perfumes companies, and he met Don Julio Gonzalez in 1988 while selling pumps. De Colsa began learning about various products' tastes and aromas, and he worked with marketing departments for various perfume and spirit companies. In 1996, he took a job at a competing distillery, and when Gonzalez got wind of this, he invited De Colsa to work for him instead. De Colsa started in the Don Julio distillery in 1999, and the pair worked together for five years before Gonzalez retired in 2004—leaving De Colsa to run the business. De Colsa has been the Master Distiller for Don Julio for 11 years, and he now resides in Guadalajara with his family. He recently sat down with Joshua Harris of The Bon Vivants and Pig & Punch to talk about passions both in and outside of work.
Joshua Harris: First things first—how you drink your Don Julio?
Enrique de Colsa: I'm passionate about cocktails. In my home bar alone, I have nearly 300 labels from all over the world. I've been in several World Class competitions for cocktails, and I now judge them. I recognize the creativity. When I go to a bar, I want to be surprised. If I'm at a nice cocktail bar, I drink the bartender's choice with Don Julio. If not, I go for Don Julio Anejo on the rocks.
JH: What do you do in your downtime?
EC: I travel with my family. I love to travel for work, but it's better with family. I love to play golf and have played since I was 12. I also like to read and listen to music. I have too many parties for work, so I like to spend time with two or three couples eating and drinking in my downtime.
JH: Speaking of travel, what's your favorite travel destination?
EC: Six hours north of Athens, Greece, in Meteori, is one of the most stunning views I've seen. Also, I enjoy Assisi, Italy, because you feel beautiful there. I have been to Meteori twice and Assisi eight times. I've told my wife it's easy to be a saint in Assisi because you just look at the views! It is such a relaxing and spiritual place.
JH: Where are your favorite places to eat around the world?
EC: I've been to so many good places that I can't even begin to tell you. If I named one, I would think of something else later. The best food I've ever had is in Spain, but the best seafood is in my hometown of Veracruz at La Isla del Amor. I also love street tacos.
JH: Don Julio has been part of Pig & Punch since the beginning. Why have you chosen to partner with us?
EC: Don Julio was a real man who was honest. He helped the people in his community—not only those in the distillery, but also in the fields. Don Julio isn't just a great brand, but also is a brand that has passion for healing those around it.
JH: Now I've got some rapid-fire questions for you. 
JH: Dogs or cats?
EC: Dogs, by far.
JH: Early bird or night owl?
EC: Depends on if it's for work or for celebrating—either way I'm a bit of a night owl.
JH: Coffee or tea?
EC: Three months ago, definitely coffee. Now, I don't know. In the mornings, I have tea, but after a mid-day meal, I drink espresso.
JH: Mountains or ocean?
EC: Mountains.
JH: Sparkling or still?
EC: Sparkling.
JH: And finally, football or fútball?
EC: American football! I'm a Cowboys fan!