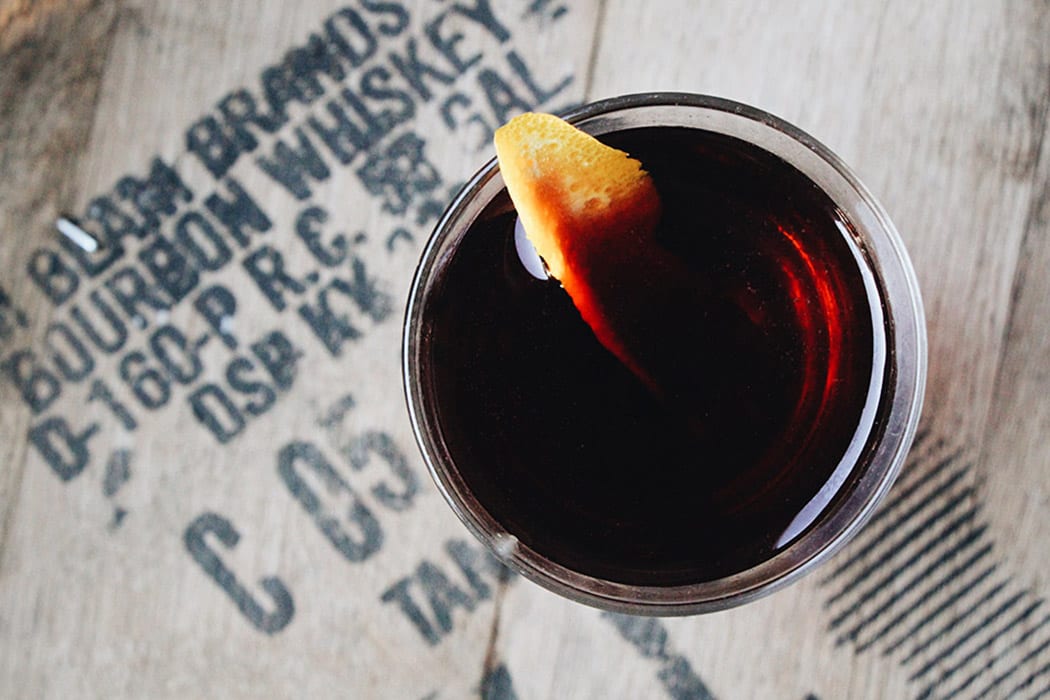 This letter was originally sent via email as part of our bi-weekly Tasting Notes newsletter. Sign up for Tasting Notes today, and every other week you'll receive a letter from our executive editor, Paul Clarke, along with links to our favorite recipes and compelling stories, right in your inbox.
"Something with bourbon—stirred, please, maybe kind of Boulevardier-ish." It's been more than six weeks now since I last asked for a cocktail in a bar. I was sitting across from the friendly bartenders at Canon, up the street from my Seattle office. It was just after 5 p.m. on the final Friday night of service in the Before Time, and this was my "dealer's choice" drink order, as it had been fairly regularly. And it was good …
What I wouldn't give to be in a bar right now. The dull rumble of the music, the laughter at the corner table, the handshakes and hugs from friends, the percussive thunka-thunka of ice in the shaker, the curve of the glass in front of me—I miss it all so very much.
I miss visiting bars, and I miss my bartender friends even more. And to be honest, I'm kind of worried about them. Having lost their means of employment—along with their sense of structure and purpose, and many of their social connections—many bartenders and restaurant workers are under a tremendous emotional strain. I recently chatted with some friends in the industry who have insight into these challenges, as well as some suggestions for those who need assistance with mental health or substance abuse issues. Does this sound like someone you know, or maybe yourself? Please, take a look at the resources available, and reach out if you're in need.
The moments of brightness we find these days can make a lot of difference. For some people, this means perfecting your banana bread or mastering the Peloton—for others, it can be adding something new to your routine. Maybe that means cranking your cocktail hour in a fresh direction with a Stealth Margarita from Ghost Donkey, our Cocktail Bar of the Year. I've been venturing down the memory lane of mixology more often these days, mixing deep cuts from the classic cocktail canon, like a Daisy de Santiago or a Cocktail a la Louisiane. And when the day needs an extra boost? A boozy ice cream float can make all the difference.
We've got plenty more ideas here online, and be sure to follow us on Instagram, Facebook, and Twitter to keep up with us day-to-day. And April is almost over—through the end of the month, we're donating $5 of every subscription to the Restaurant Workers' Community Foundation COVID-19 Relief Fund, and we're making a 100 percent donation match of the total raised. Click here to join us as a subscriber.
We're all trying to find the best ways to get through these tough times, and good distractions can help a lot. You can make like Stanley Tucci and mix a Negroni that—okay, it's not exactly according to Hoyle, but if you find the joy in the process that he finds in his, then no one should stand in your way. Around here, I've been playing with a somewhat different Negroni riff, while finding pleasure in things like the Yiddish-rich "Unorthodox" on Netflix, the joy of a solitary morning run, and the meditative act of preparing dinner while listening to the Dead Eyes podcast, with its occasionally hilarious revelations of the benefits to be found in the aftermath of life's disappointments.
The little things help sometimes. Hang in there, and I'll catch you again in a couple of weeks.
—Paul