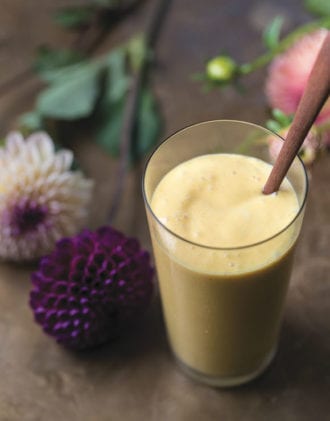 This coconut and mango milkshake from Chitra Agrawal's new book, Vibrant India, is an easy interpretation of the traditional pudding-like dessert mavina hannu seekarane.
2 mangoes, peeled and cubed
1 can (13.5 oz.) unsweetened coconut milk
½ cup plain yogurt
½ tsp. cardamom powder
3 to 4 Tbsp. sugar
2 ice cubes
Tools: blender
Glass: pint glass or highball
Place all ingredients in a blender and puree until smooth. Serve immediately.
Reprinted with permission from Vibrant India: Fresh Vegetarian Recipes from Bangalore to Brooklyn by Chitra Agrawal. Copyright 2017. Ten Speed Press. 
---
Get more great cocktail recipes when you sign up for our bi-monthly magazine. Subscribe now and save up to 59%—it's just $21.95 for one year or $32.95 for two years. Click here for details.