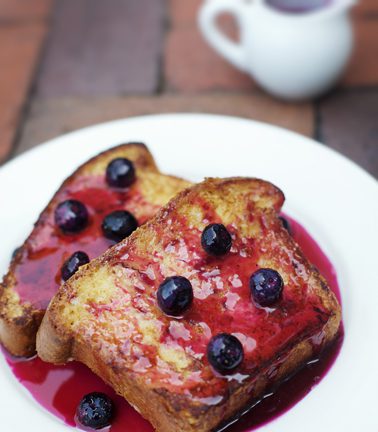 Bourbon is at home at the breakfast table with this French toast that's infused with Kentucky's famous spirit. Rather than just dunking each slice of bread in the batter, let them soak for a few extra seconds for an extra-custardy center.
2 cups whole milk
⅓ cup bourbon
5 whole eggs
½ cup sugar
2 tsp. ground cinnamon
12 slices egg bread, like brioche
Mix the milk, eggs, sugar, bourbon and cinnamon together in a bowl. Melt a pat of butter on a hot griddle. Dip the bread in the batter. Place the battered bread on the griddle and cook until the first side turns golden brown. Flip the toast and continue to cook until the other side is golden brown. Serve with butter, berries and syrup.
Albert W.A. Schmid, The Kentucky Bourbon Cookbook (The University Press of Kentucky, 2010)