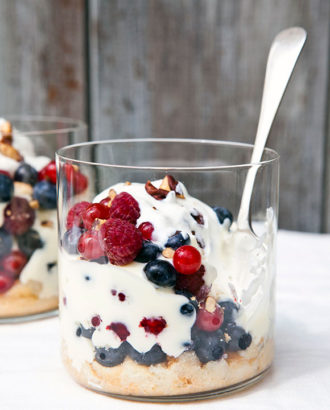 Creamy custard, dry sherry and a potpourri of fruit flavor this eye-catching trifle. Just be sure to make and assemble the day before, "so it has time to set and take on all the flavors," note authors Ithai Schori and Chris Taylor.
3 large eggs
3 large egg yolks
½ cup plus 2 Tbsp. sugar
5 cups heavy cream
1 vanilla bean, split, seeds scraped & reserved
1 packet ladyfinger cookies
2 cups dry sherry
3 blood oranges
1 quart mixed berries such as blackberries, raspberries, currants and blueberries
1 cup pecan halves (or any nut), toasted
In a large mixing bowl, combine the eggs, egg yolks and sugar and whisk just to combine. (Don't leave sugar on the yolks without mixing as the sugar "cooks" the eggs, leaving you with hard lumps in your custard.) Set aside.
In a medium saucepan over medium-low heat, bring 3 ½ cups of the cream, the vanilla seeds and vanilla pod to a boil. Remove from the heat and slowly pour the cream over the egg mixture while whisking. Then add the egg and cream mixture back to the pan and place over very low heat. Stir constantly, scraping the bottom of the pan with a heatproof rubber spatula, to thicken the custard. (If the heat is too high, the mixture will scramble.)
Use a candy thermometer to gauge its progress. Once the custard has reached 156 degrees F, remove it from the stove, remove and discard the vanilla pod, and pass the custard through a fine-mesh sieve into a bowl. Cover the surface with plastic wrap (which will keep a skin from forming on top) and leave in the fridge to cool.
While the custard is cooling, set out 8 glasses. Break up the cookies into small pieces, but not a fine crumble, and place one cookie's worth of pieces at the bottom of each glass. Top the cookie pieces with ¼ cup of sherry so that they soak up the liquid and become soft. Set aside.
Supreme the oranges. Divide the berries and oranges in the glasses and top with the chilled custard. When ready to serve, whip the remaining 1½ cups cream to soft peaks. To finish, top each trifle with whipped cream and pecans.
Serves 8.
Reprinted with permission from Twenty Dinners by Ithai Schori and Chris Taylor. Published by Clarkson Potter/Publishers, an imprint of Penguin Random House LLC.