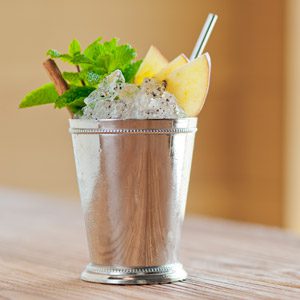 The bar crew behind Austin's Drink. Well. head to the spice rack for this apple pie-inspired take on a modern Mint Julep.
1 oz. rye whiskey
1 oz. apple brandy
1/2 oz. cinnamon- and clove-infused brown sugar syrup (see below)
7-8 mint leaves
Tools: muddler, swizzle stick
Glass: julep
Garnish: mint sprig, cinnamon stick, several slices of fresh apple, a shake of fresh-grated nutmeg and a crank of cracked black pepper
Muddle the mint with the cinnamon-clove syrup in a julep cup. Add the rye whiskey, apple brandy and crushed ice to the julep cup and swizzle until the cup is frosty. Top with additional crushed ice and garnish.
Cinnamon- and Clove-infused Brown Sugar Syrup: Bring 1 cup of packed light brown sugar with 1 cup of water, 4-5 sticks of cinnamon bark (note: Drink. Well. says bark is preferable to sticks, but if you use cinnamon sticks, increase to 6), 5 whole cloves and the peel from 1/2 an orange to a simmer. Reduce heat to low and simmer for 5 minutes. Let cool to room temperature and strain into a glass jar. Cover and keep refrigerated for up to 2 weeks.