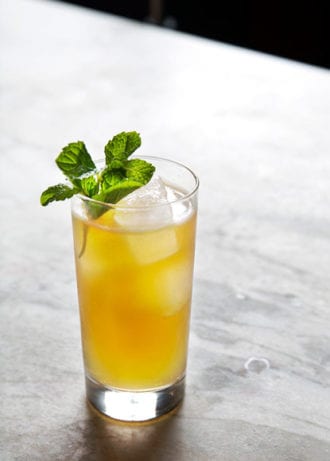 Fresh mint syrup adds an herbal essence to the Albra Cocktail, and a splash of Cynar lends a layer of earthiness.
1½ oz. vodka
½ oz. Cynar
½ oz. mint syrup
1 oz. fresh lemon juice
1½ oz. tonic water
Tools: shaker, strainer
Glass: Collins
Garnish: fresh mint sprig
Combine first 4 ingredients and shake with ice. Strain into an ice-filled glass, top with tonic and garnish.
Mint Syrup: Combine 1 cup of rich simple syrup (2:1) with 1 handful of fresh mint leaves and steep on low heat until wilted. Strain into a jar and refrigerate for up to 2 weeks.
Alex Straus for Grandpa Johnson's, Los Angeles