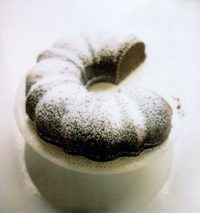 Molly Wizenberg, keeper of the blog, Orangette and author of the book A Homemade Life, originally adapted this Whiskey Chocolate Bundt Cake recipe from The New York Times. And while any strong brown spirit works well in this recipe, she recommends using one you like to drink on its own—with a whole cup added, the whiskey flavors become an integral part of the cake.
2 sticks (8 oz.) unsalted butter, softened, plus more for the pan
2 cups all-purpose flour, plus more for the pan
5 oz. unsweetened chocolate
¼ cup instant espresso powder
2 Tbsp. unsweetened cocoa powder
1 cup bourbon, rye or other whiskey, plus more for sprinkling
½ tsp. kosher salt
2 cups granulated sugar
3 large eggs
1 Tbsp. vanilla extract
1 tsp. baking soda
Confectioners' sugar, for garnish (optional)
Preheat oven to 325 degrees F. Grease and flour a 10-cup-capacity Bundt pan (or two 8- or 9-inch loaf pans).
Set a heat-proof bowl over—but not touching—a saucepan of simmering water and melt the chocolate until just smooth, stirring occasionally. Let cool.
Put espresso and cocoa powders in a 2-cup (or larger) glass measuring cup. Add enough boiling water to come up to the 1 cup measuring line. Stir until the powders dissolve. Add the whiskey and salt. Let cool.
Using an electric mixer, beat the butter until fluffy. Add the sugar, and beat until well combined. Add the eggs one at a time, beating well after each addition. Beat in the vanilla extract, baking soda and melted chocolate, scraping down the sides of the bowl with a rubber spatula.
With the mixer on low speed, beat in a third of the whiskey mixture. When liquid is absorbed, beat in 1 cup flour. Repeat additions, ending with the whiskey mixture. It may seem like there is too much liquid, but don't worry; it's okay. Scrape the batter into the prepared pan, and smooth the top. Bake until a toothpick inserted into the center of the cake comes out clean, about 1 hour and 10 minutes for a Bundt pan. (Loaf pans will take less time; start checking them after 55 minutes.)
Transfer the cake, still in its pan, to a rack. Unmold after 15 minutes and sprinkle warm cake with more whiskey. (I did this by pouring a little bit into a teaspoon, and then shaking the teaspoon over the cake. I'm guessing that I used 3 teaspoons' worth in all.) Cool completely before serving, garnished with confectioners' sugar, if you like.