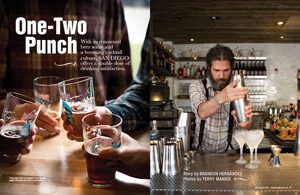 Stool up at the dark yet inviting Small Bar in San Diego's quaint University Heights neighborhood, set your sights on the 42-strong beer board, and the world is your oyster stout. Everything from smoked lagers to assertive double IPAs, funky wild ales, and coffee- and vanilla-tinged porters are on draught. The best part? Many are brewed within a 30-mile radius. Not in the mood for beer? Small Bar's cocktails pull from one of the most extensive brown spirits collections in San Diego. In many cities, this would be the finest watering hole around. But in San Diego, it's not even the largest of owner Scot Blair's four venues, all of which revolve around what San Diego has become known for—quality craft beverages.
Beer City, USA
Despite hailing from a locale famous for its laidback attitude, San Diego's brewers have always been unified in their quests to be the biggest, baddest, bravest kids on the block. It's that spirit and their collective audacity to redefine time-honored brewing styles by boosting their flavor, ABV and IBU levels through the stratosphere that allowed San Diego brewers to blaze trails early and cement the region's spot at the top of the heap.
San Diego County is home to the nation's reigning best large and small brewpubs of the year (crowned at Denver's Great American Beer Festival last fall), both of which are links in the four-location Pizza Port chain of beach-adjacent pie and pint depots. Their Carlsbad location has won large brewpub of the year the past three years in a row. Two of the county's breweries—AleSmith and Port Brewing/The Lost Abbey—have been named Best Small Brewery of the Year at the GABF. And on a global scale, Port Brewing/The Lost Abbey and San Diego's Ballast Point Brewing & Spirits have both taken Best Small Brewery honors at recent World Beer Cup competitions.
Having so much award-winning beer available in such quantity and variety has created an ever-expanding subculture of local connoisseurs, but it wasn't always that way. In the mid-'90s, when now celebrated breweries like Stone Brewing, AleSmith and Ballast Point were in their infancy, locals were the hardest to reach. "For a long time, the good reputation of local breweries was known more outside San Diego than in San Diego," says Ballast Point specialty brewer Colby Chandler. "Only recently have we seen locals realizing what we have quietly been doing for many years now. Awards have always been a great way to get the word out, but I think we are all proud that locals have finally picked up on how lucky they are to be drinking world-renowned beers."
An early lack of recognition inspired San Diego brewers to craft the hoppiest beer around. And no company employed that attention-getting attitude as loudly as Stone, which started in 1996 as a tiny operation in a cramped industrial park suite. They dialed up the hops and dared drinkers to put down predictable macrobrews and go a few rounds with their unapologetically bitter Arrogant Bastard Ale. Gradually, the public rose to the challenge and started clamoring for more hops, more flavor … more of everything. The beer bred a cult following and became a talking point across the country, summoning the attention of outsiders to what was, at the time, San Diego's best-kept secret—its cadre of exceptional brewing talent.
Stone has since grown to become America's 11th largest craft brewery and traded its business park space (which is now home to Port Brewing/The Lost Abbey) for a grand, fortress-like facility equipped with its own farm-to-table restaurant and a pristinely landscaped outdoor oasis rife with the smell of spent grains. It draws so many tourists that Stone is building a hotel across the street. "We were always bullish about making great-quality beers and that, as people discovered them, they'd learn to love them as much as we did," says Stone CEO and co-founder Greg Koch. "But I couldn't have guessed what shape it would take in '96—all the physicality and what we'd look like with gardens, a restaurant, hotel and multiple locations."
Though Stone's may be the most multi-faceted brewing company evolution, numerous other San Diego breweries have seen significant growth. AleSmith has tripled the size of its brewery. Last year, the rapidly growing Green Flash Brewing Company moved from an obscure business park to a 45,000-square-foot building it's already poised to outgrow in the next few years. And Ballast Point is currently looking for a large building to house a facility capable of producing over 100,000 barrels per year after maxing out capacity at their two current breweries.
And then there's Chris Cramer and Matt Rattner, who built San Diego's first new craft brewery back in 1989, spawning the beginning of the city's craft beer revolution. Today, Cramer and Rattner's Karl Strauss Brewing Company is seven brewery restaurants strong, and it's the 44th largest craft brewing company in the nation. This, despite the fact that their beer is sold only in California—60% of that in San Diego alone.
Inspired by San Diego's flagship breweries, more than a dozen new breweries have opened across the city over the past two years alone, and 20 more are in the planning stages—a number of which are single-shingle entrepreneurships making the jump from homebrewing to the pro ranks.
Diverse Tastes
After waging and winning a Lupulin-fueled war on the rest of the country, San Diego is considered IPA country. Archetypal regional hop elixirs like Ballast Point Sculpin IPA, Green Flash West Coast IPA, and 2011 Alpha King IBU competition winner Pizza Port Poor Man's IPA prove local operations can still bring it in the brawny bitterness area. But all that bitter bite tends to distract from the fact that, thanks to the diversity of the region's brewing companies, stellar local versions of nearly every beer style in the world are produced in San Diego.
Ballast Point, which still maintains its original brewhouse in the back of a local homebrew shop, Home Brew Mart, offers a wide selection from refreshing lagers like its Smoke Screen Smoked Helles on up to robust ales like its Victory at Sea Coffee Vanilla Imperial Porter made with cold-brew coffee from local roaster Caffé Calabria. It's also made a name for itself with inventive offerings like the Indra Kunindra India-style Export Stout and one-offs like a line of scorching, yet refreshing chili beers, including a habanero-laced iteration of its award–winning Sculpin IPA.
Local heavyweight Pizza Port also excels in producing just about every beer style. It's pulled in dozens of national awards across a wide range of categories, from English-style mild ale to Belgian-style strong ale. Pizza Port spawned another award-winning San Diego brewery, Port Brewing/Lost Abbey, a two-piece business that includes a line of West Coast beers under the Port Brewing brand as well as a continental line under the Lost Abbey moniker, which includes Old World–inspired barrel-aged beers. Both are presided over by celebrated craft brewer Tomme Arthur. Throngs of Belgian and sour ale fanatics descend upon the North County tasting room each weekend, especially during special-release parties for rarities like the experimental barrel-blended Veritas series, which includes such specialties as peach sours and tea beers, and numbers from a recent series of beers inspired by classic Heaven- and Hell-themed rock songs. The Lost Abbey is where art and beer collide, and it's an example of why tasting room
s have grown into one of the most popular institutions in San Diego over the past several years.
One tasting room that's unlike any other in San Diego is the newly installed bar at White Labs. One of the country's largest suppliers of yeast for brewing, winemaking and distilling, White Labs now brews beers onsite, splitting each batch into multiple fermentation vessels, then pitches different strains of yeast into each container. The result is beers made using the same recipe that look and taste completely different. It makes for a great way to experience the trademark flavors imparted by beer's most important ingredient.
On the beer bar front, there's also something for everyone. Much like breweries, beer–centered bars are trickling into just about every San Diego neighborhood, but only a handful of stalwarts from the mid-'90s remain. One is O'Brien's Pub, an anything-but-Irish bar situated amid strip malls lining Convoy Street in the central Kearny Mesa community. O'Brien's goes by the nickname "the hoppiest place on Earth" and, in addition to taps flowing with a wide array of West Coast and Belgian beers, it also sports a lengthy and inspired bottle list.
But the sudsiest stretch of thoroughfare in San Diego is trendy 30th Street, the artery connecting San Diego's North and South Park neighborhoods. A jaunt down 30th turns up a number of gems, including Tiger! Tiger! Tavern—the wood-fired oven–equipped draught beer bar from former Stone head brewer Lee Chase; eateries like The Linkery and Ritual Tavern, offering locally sourced everything (including beer); and iconic hop spot Hamilton's Tavern, the crown jewel in Scot Blair's chain of venues geared toward educating the public on craft beer in an approachable fashion.
Hamilton's has become an archetype for ambitious beer bars across the country, but one he purposely chose to deviate from when developing subsequent venues Small Bar, Normal Heights music venue Eleven and downtown brewpub Monkey Paw, "Hamilton's is a one-of-a-kind place," says Blair. "I wanted to do things slightly different at each of my venues but keep the core values of what we do with our business identical. Small Bar was the first place to bring craft beer and cocktails together using the same Hamilton's charter of making quality accessible and now we see that model at many places."
Mere blocks from Blair's Monkey Paw in downtown's East Village is a gastropub called Neighborhood, which arrived along with another influential entrepreneur looking to shine a light on local beer in concert with specialty spirits in 2007. The realization that something special was happening with the local brewing industry inspired owner Arsalun Tafazoli to open his modernist shrine to craft beer and comfort food, invest in a topnotch draught system and proper glassware, while educating his staff and focusing on beer and food's pairability. He did so when there was little to no market for such a concept, especially in the East Village. But today, Neighborhood is one of San Diego's most popular beer spots and the type of gastropub many try to imitate. "I never thought the beer scene in San Diego would get to this point," says Tafazoli, who nearly went out of business due to lack of patronage before the tide of craft beer interest rose to meet him. "It's been really awesome to see brewers who were on the verge of shutting down, now unable to keep beer in stock. It's a national trend, and San Diego is leading the way."
Cocktail Boom
Because San Diego is so well-known for its thriving craft beer culture, it would be easy to mistake it for a one-trick pony, but quality cocktails have permeated the local scene, coming on just as strong over the past five years. In fact, the current cocktail scene is reminiscent of the early days of beer in San Diego—a short list of young fledgling artisans pushing the boundaries to create a culture versus settling for the status quo. Many of them drink with and feed off of each other, frequenting each others' establishments, picking up tricks of the trade and putting their own spin on them, thus creating a trademark culture for the region based on both commonalities and individuality.
One of the city's most popular industry hangouts is downtown's reimagined Western saloon, El Dorado. Before being purchased by Nate Stanton in 2007, it was an aging, dilapidated eyesore. But as soon as Stanton infused it with his vision of cocktails done well, it took on a new life and helped spark his desire to do more to advance San Diego's spirits culture.
The chance to do just that came when Stanton made the acquaintance of Tafazoli over drinks at Neighborhood. The two started talking shop and lamenting the lack of cocktail venues offering topnotch hospitality and the culinary approach to cocktails they were thirsting for. It was through that commiseration that a new concept was born—one that would elevate the cocktail experience in San Diego by channeling the finest elements of programs throughout the country.
For more than a year, the duo traveled to top bars around the country, drawing inspiration and making allies. One, bartender Sam Ross of New York's famed Milk & Honey, became an integral ingredient to their eventual success. Ross and his staff lent their expertise to Tafazoli and Stanton, helping to construct Noble Experiment's 700-deep recipe catalog and 100-plus bottle inventory, while educating its bartenders. The result is a hideaway providing a choose-your-own-adventure cocktail experience based on patrons' individual tastes. "Design-wise, we looked at it as an art installation. We wanted to execute something special in this town that would hopefully hit home," says Tafazoli.
He and Stanton invested in creating an intimate speakeasy-style bar replete with white leather and mahogany juxtaposed by a Swarovski crystal chandelier, Renaissance paintings and a wall of golden skulls. It's hidden from public view and accessible only through a secret door disguised as a wall of kegs inside Neighborhood. The rotating cocktail menu consists of a short yet impeccable list of "suggestions," including contemporary classics like the Rattlesnake (with rye, lemon, sugar, egg white and absinthe), pre-Prohibition classics like a Brandy Milk Punch, and house creations like the Flores (reposado tequila, mezcal, sherry and mole bitters), but most patrons let Noble Experiment's able bartenders do the choosing.
In 2010, Tafazoli and Stanton expanded their reach to San Diego's Little Italy, opening Craft & Commerce, a popular cocktail, beer and social hub with a meticulously constructed drink program devised in collaboration with acclaimed New York bartender Philip Ward and including a line-up of creative punches and beer cocktails. Like Noble Experiment, the design is one of the most alluring in San Diego, but Tafazoli and Stanton's focus has never strayed from their key objective. "The ultimate goal is to help foster more of a culinary drinking community based on substance and education, and to help inspire others in San Diego to do good things," says Tafazoli.
Noble Experiment and Craft & Commerce aren't the only venues to draw from more established cocktail scenes. The Hotel Palomar's new gastrolounge, Saltbox, hired bartender Erin Williams, who cut her teeth under Audrey Sanders at New York's Pegu Club and has already made a name for herself behind well balanced, reimagined takes on classic recipes. "Our greatest asset in San Diego is our sense of community. Everyone is very supportive of one another, and we're good friends," says Williams. "It's a lot like New York City was six or seven years ago. The bartending scene has gotten so large there that it'd be impossible to get every great bartender in one place at one time, but here, we're still small and tight-knit—but growing quickly."
Tight-knit also applies to the geography of San Diego's cocktail scene. Most of the best cocktails are found downtown, where standouts like Prohibition and feisty newcomer The Lion's Share reside. Also not to be missed is Grant Grill. Housed in the historic US Grant hotel, it's the playground for innovative bartender Jeff Josenhans, who in the last year has created an entire drink menu based around edible flowers grown on the hotel's rooftop and has crafted an assortment of bottle-conditioned cocktails.
Helping to bring a shot of quality and inventiveness beyond the urban core is San Diego's foremost—and only—molecular mixologist, Mike Yen. Yen brings familiar flavors of classic cocktails to life in reimagined ways, introducing textures—gelatinous, powdery, syrupy, crumbly—via molded creations built to look like everything from sunny-side-up eggs to a flower pot. The latter was the vehicle for a one-bite blueberry Mojito he served as part of a modernist dinner event put on by Evolve Cuisine, a group of cutting edge gastronomes putting on monthly pop-up dinners throughout San Diego.
Nowadays, it's rare to see an eatery open without its own custom drink list. And among those leading that charge is Snake Oil Cocktail Company, the brainchild of bartenders Lucien Conner and Ian Ward. Snake Oil has built bar programs and cocktail menus for trendy local eateries such as Whisknladle, Gaijin and the popular restaurants of former Top Chef finalist Brian Malarkey: Searsucker, Burlap, Gingham, Gabardine and Herringbone. Conner and Ward have fashioned custom selections to match each venue's unique theme or personality. Searsucker's drink list highlights locally procured ingredients, while Gaijin, a noodle house and saké bar, features a line of traditional kakigori—finely shaved ice, placed in a paper cone and flavored with housemade fruit and alcohol reductions. "The number and kinds of projects we are tackling are so diverse, it amazes me," says Conner. "We're excited to give people a new way to think about what they're consuming and a little more appreciation for what's in their glasses."
This is a sentiment echoed by everyone contributing to San Diego's artisanal evolution. Whether they're brewers, bartenders or entrepreneurs, in the end, their goal is to push the envelope and provide drink enthusiasts with something new, exciting and, above all, delicious. As it turns out, quality and innovation are extremely persuasive. San Diegans have grown to crave both, making for a universal bridge between the beer and cocktail mediums. "What makes San Diego unique is the nexus of beer and cocktail culture taking shape here. Noble Experiment resides in a restaurant that features over 24 beers on tap, and both businesses, although very different in purpose, act as fuel for each other," says Anthony Schmidt, Noble Experiment's head bartender. "The big concern was that beer snobs weren't going to appreciate the cocktails and vice versa, but we were way off. Beer aficionados tend to really enjoy cocktails."
From botanically bolstered hop bombs and barrel-aged sour ales to elegant tipples made with house-infused spirits and housemade bitters, San Diego has come a long way from a laidback vacation town with a slushy salt-rimmed margarita for a mascot. Now, it's a center and standard-bearer for world-class, expertly crafted beverages, and it's getting better by the day.