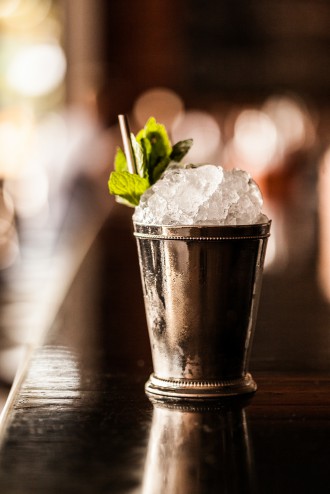 This spin on the classic Mint Julep from Houston's Alba Huerta and Bobby Heugel (our 2014 Bartender(s) of the Year) takes the sweet refresher in a rather grown-up direction with bitters and high-proof, peppery rye whiskey.
2 oz. bonded rye whiskey (Heugel and Huerta use Rittenhouse)
2 barspoons turbinado syrup (2:1, sugar to water)
2 dashes Angostura bitters
10-12 mint leaves
Tools: muddler, barspoon
Glass: Julep cup
Garnish: mint sprigs, powdered sugar, straw
In the base of a Julep cup, muddle the mint leaves with the rye, syrup and bitters. Fill the julep cup three-quarters of the way with crushed ice. Stir until cold. Fill with more crushed ice, forming a mound. Garnish with two pressed mint sprigs, dusted with powdered sugar. Place a straw in the cup right next to the mint to emphasize the aromatics.
Alba Huerta and Bobby Heugel, Julep, Houston