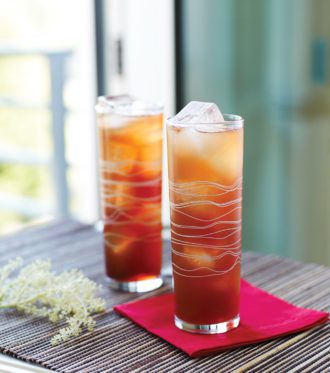 The Singapore Sling is said to have been created at Singapore's Raffles Hotel at the turn of the 20th century by bartender Ngiam Tong Boon. Visit the hotel today, and you'll see the safe in which Ngiam locked away his recipe books, as well as the Sling recipe jotted down on a bar chit in 1936 by a hotel visitor.
1 oz. London dry gin
1 oz. Bols Cherry brandy or Cherry Heering
1 oz. Bénédictine
1 oz. fresh lime juice
2 oz. soda water
1 dash Angostura bitters
Tools: barspoon
Glass: Collins
Combine all ingredients except soda water and bitters in an ice-filled glass. Top with soda water, stir briefly and dash with Angostura bitters. Note: The original Singapore Sling appears to have been ungarnished. By the mid-1920s, they were adding the peel of a lime, cut in a thick spiral. By the late '30s, they were also omitting the Bénédictine and bitters and floating Sloe Gin on top.