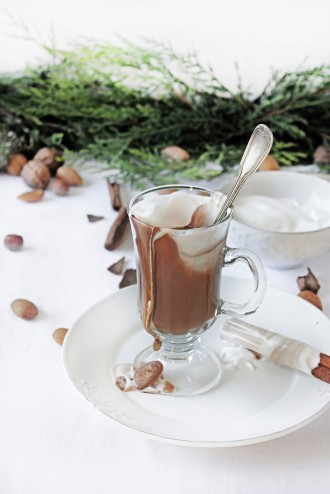 Featuring a generous dose of chocolate and spice, this spiked hot chocolate recipe is tempered with a bit of sugar and—best of all—ruby port.
½ cup whole milk
7 oz. semi sweet chocolate
1 Tbps. ruby port
1 Tbps. light brown sugar
1 tsp. cornstarch
2 cloves pinch nutmeg
1 cinnamon stick
Tools: saucepan, large spoon
Glass: mug
Garnish: whipped cream
Combine all but 2 Tbsp. of milk with the chocolate, wine, spices and sugar in a saucepan over medium heat. Stir until the chocolate melts. In a bowl, combine the remaining milk with the cornstarch and add that mixture to the pan. Increase the heat, stirring constantly, until the mixture almost boils. Remove from heat, discard the cloves and cinnamon. Pour into mugs and serve with whipped cream. Serves 4.
Mónica Pinto, Pratos e Travessas