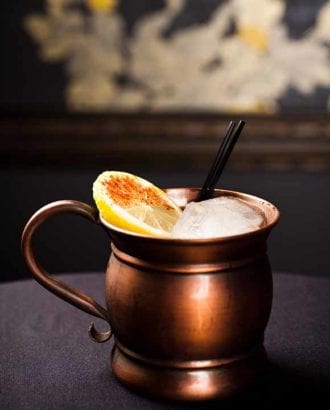 A splash of homemade Dijon syrup adds a tangy kick to the gingery Joe Buck from Austin's Midnight Cowboy.
1½ oz. corn whiskey
½ oz. Dijon syrup (see below)
Scant ½ oz. fresh lemon juice
Ginger beer
Tools: shaker, strainer, barspoon
Glass: copper mug
Garnish: thinly sliced lemon wheel dusted with sweet smoked paprika
Combine all ingredients, except the ginger beer, and shake with ice. Strain into a copper mug filled with cracked ice and top with ginger beer. Gently stir to incorporate all ingredients and garnish.
Dijon syrup: Combine 1 cup of honey, 4 heaping Tbsp. of Dijon mustard, ¾  tsp. of sweet smoked paprika and 1 oz. of hot water whisk thoroughly to incorporate. Will keep refrigerated for up to 2 weeks.
Brian Dressel, Midnight Cowboy, Austin, Texas