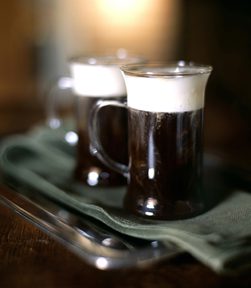 The creation of Irish chef Joseph Sheridan, who first invented the coffee cocktail on a dreary night back in the 1940s to rouse tired, chilly American travelers, the Irish Coffee recipe has since become a staple of bar menus around the world. It's a comforting blend of whiskey, coffee, brown sugar and fresh cream that warms you to the core.
¾ cup fresh-brewed coffee
1 Tbsp. brown sugar
1 ½ oz. Irish whiskey
Heavy cream
Tools: coffee brewer, whisk (or electric frother)
Glass: toddy
Garnish: roasted coffee bean
Pour fresh hot coffee into a preheated glass. Stir in the sugar and dissolve. Pour in the whiskey and stir. Lightly whip the cream so it's still pourable, then top the coffee by pouring the cream over the back of a spoon so that it floats. Do not stir after adding the cream, as the true flavor emerges by drinking the coffee and whiskey through the cream. Garnish.