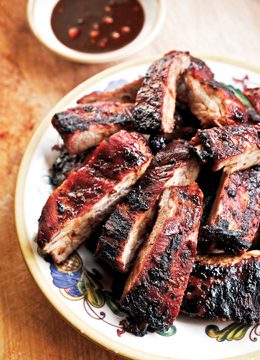 These finger-licking ribs get dosed with a delicious trifecta of flavor and spice—Sriracha chile sauce, Chinese five-spice powder, and the botanical- and spice-infused Angostura bitters.
½ cup hoisin sauce
⅓ cup soy sauce
3 Tbsp. honey
1 Tbsp. Sriracha sauce
¼ tsp. Chinese five-spice powder
2 cloves garlic, minced
1 Tbsp. peeled and grated fresh ginger
1 Tbsp. cider vinegar
2 Tbsp. Angostura or other aromatic bitters
1 rack of pork spareribs 
(2 to 4 pounds)
Combine all of the ingredients, except for the spareribs, in a bowl and whisk to combine. Set aside ½ cup of the sauce. Place the ribs in a non-reactive baking dish, pour the sauce on top, and turn to coat the ribs. Marinate in the refrigerator for 1 to 3 hours, turning the ribs once.
Preheat the oven to 400°F and line a rimmed baking sheet with aluminum foil. Place the ribs on the prepared baking sheet and bake for 50 minutes, turning once halfway through the cooking time and basting with half of the reserved sauce. At the end of 50 minutes, remove the ribs from the oven and brush with the remaining sauce.
Preheat the broiler. When hot, broil the ribs, meaty side up, until the ribs begin to char, about 5 minutes. Remove from 
the broiler, hack the ribs apart with a cleaver or chef's knife, and serve.
Makes 2 to 4 servings.
Reprinted with permission from Bitters: A Spirited History of a Classic Cure-All by Brad Thomas Parsons. Published by Ten Speed Press, an imprint of Random House.