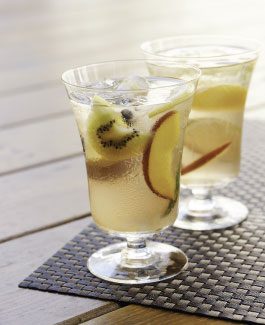 Refreshing and complex, this white tea sangria recipe combines white wine with delicate white tea and fruit for a refreshing twist on the classic wine cocktail.
4 heaping tbsp. loose white tea
4 cups boiling water
1 bottle white wine, chilled
2 cups white grape juice, chilled
1 orange, washed and sliced
1 lime, washed and sliced
1 lemon, washed and sliced
2 kiwis, washed and sliced
1 peach, washed and sliced
1 apple, washed and sliced
6–12 berries, washed
6–12 grapes, washed
In a teapot or jar, cover tea leaves with boiling water and steep for 4 minutes. Strain out leaves and let tea cool to room temperature, then chill in the refrigerator for several hours or overnight. Combine all ingredients in a large pitcher. Pour into ice-filled glasses. Makes 8 to 10 servings.
Note: Substitute any of the fruits with whatever fresh, seasonal fruits you have on hand. Also, you can use oolong tea instead of white tea, if desired. Choose a lightly oxidized/fermented oolong to complement the sangria's fruity, floral flavors.
Anthony Arnold, Remedy Teas, Seattle