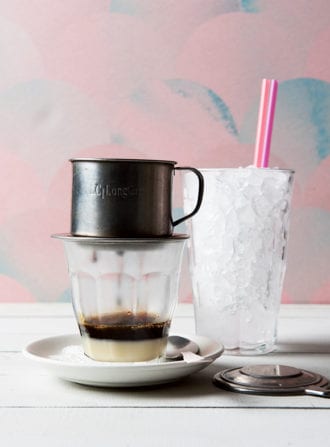 Chicory coffee adds a nutty, earthy edge to the iced coffee at Elizabeth Street Cafe in Austin. At the restaurant, they brew cups to order, but they also recommend making a big batch using a standard drip coffee machine or a French press at home.
1 cup ground chicory coffee (Elizabeth Street uses Café du Monde)
8 cups boiling water
1 can sweetened condensed milk
Place half the coffee in a French press and add the hot water. Stir together and let the mixture sit for 4½ minutes. Press the coffee and then pour it into a pitcher. Repeat with the remaining coffee and water. Stir in the condensed milk and then transfer the mixture to the refrigerator for at least 2 hours and up to overnight. Fill 4 tall glasses with crushed ice, pour the coffee over the ice, and serve immediately. Makes 8 Cups.
Reprinted with permission from Elizabeth Street Cafe.
---
Did you enjoy this recipe? Sign up for our newsletter and get our favorite drink recipes of the moment in your inbox every month.