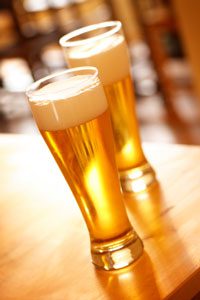 Think all German beers are lagers and hefes? Not so fast. In "So the Story Gose" from our May/June issue, writer Joshua Bernstein delves into the delicious yet little-known world of gose beer, a German brew traditionally spiced with coriander and salt. But gose isn't the only old German beer category experiencing a modern revival. Here are a few other styles worth checking out, including a German and domestic version of each.
Altbier
Literally translating to "old beer," copper-colored altbiers are cold-fermented and aged for several months before bottling, which helps to mellow and marry the malt and hops tones, making for a smooth, medium-bodied brew.
Two to try
Alaskan Brewing Amber
Juneau, AK  5.3% ABV
If you've tried Alaskan Amber, then you're already familiar with a tasty domestic example of the traditional German brew. Rich, malty and perfect anytime of year.
Brauerei Pinkus Mueller Organic Münster Alt
Munster, Germany  5.1% ABV
Crisp and earthy with a pillowy white head, this organic ale from Germany's Brauerei Pinkus Mueller is sweet and grainy with a hint of tangy hops on the finish.
Berliner Weisse
Snappy and almost cider-like, the grains for this low-alcohol wheat ale are intentionally soured with lactobacillus for added zing. Germans traditionally add flavored syrups to counteract the tang, but if you like your beer sour, you might like this style just as it is.
Two to try
Dogfish Head Festina Pêche
Milton, DE  4.5% ABV
Dogfish Head's interpretation of the Berliner weisse style eliminates the need for extra fruit syrup by adding a healthy dose of peaches to every batch. Thankfully, it remains tart enough to still be thirst-quenching. Hits shelves annually each June.
Professor Fritz Briem 1809 Berliner Weisse
Freising, Germany  5% ABV
Unfiltered, unpasteurized and dosed with a heavy helping of lactobacillus, this Berliner weisse is as traditional as you can get. Intensely tart and fruity, it will continue to develop with several more years in the bottle.
Kölsch
Light and fruity, this blonde ale is a longstanding favorite throughout Cologne, Germany, but had been flying under the radar in the States until just a few years ago. Thankfully importers and domestic craft brewers have recently taken hold of the style, marketing it to the light-beer loving masses.
Two to try
Victory Brewing Kölsch Ale
4.6% ABV  Downingtown, PA
As easy-going as it gets, this kölsch-style summer seasonal refreshes with crisp effervescence, subtle grain and fruit flavors, and a touch of earthy hop bitterness on the finish.
Reissdorf Kölsch
4.8% ABV  Cologne, Germany
A quintessential summer session beer. Light and clean with a pleasing dry finish, yet with enough dynamic flavors to engage down to the very last sip.
Schwarzbier
Like a trusty Guinness or a dark but refreshing black IPA? Then consider schwarzbiers your new go-to style. They're flavorful but still light and refreshing and typically low in alcohol.
Two to try
Sprecher Brewing Black Bavarian
5.86% ABV  Glendale, WI
A touch higher in the alcohol department, this Bavarian-style brew from Sprecher leans a tad more toward the malty side, showing notes of caramel, coffee and dark chocolate.
Kulmbacher Mönchshof Schwarzbier
4.9% ABV  Kulmbach, Germany
A classic example of the schwarzbier style, this dark lager strikes a balance between mild, roasted malts and dry, floral hops all while being completely refreshing.
RELATED CONTENT
Learn about a another lesser-known German beer style: gose.