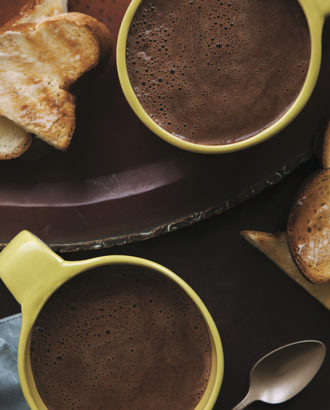 Inspired by the hot chocolate of his youth (made with fresh cow's milk), this recipe for thick, creamy Chocolat Chaud Grand-Mère comes from Thierry Rautureau, chef and owner of Luc and Loulay Kitchen and Bar in Seattle. In line with his family tradition, it's served at the restaurant with toasted brioche and butter, perfect for dunking.
¾ cup whole milk
¼ cup half-and-half
2 oz. Theo 70 percent dark chocolate, very finely chopped or grated
2 Tbsp. sugar (or more if you like it sweet)
2 slices brioche
Salted butter, for spreading
In a small saucepan, bring the milk and half-and-half to a boil. Whisk in the chocolate and sugar until the chocolate has melted and the mixture is perfectly smooth and covered with foam. Pour the hot chocolate into a serving cup or small teapot. Toast the brioche slices and serve them warm with the butter on the side. To eat, spread the butter generously on the brioche, dunk the brioche into the hot chocolate, and enjoy! Makes one extraordinarily generous 1½-cup serving.
Reprinted with permission from Theo Chocolate: Recipes and Sweet Secrets From Seattle's Favorite Chocolate Maker, by Debra Music and Joe Whinney.
---
Give the gift of Imbibe this holiday season. Gift subscriptions are just $19.95 each after your first $21.95 gift subscription purchase! Click here for details.