Five years ago, Mokhtar Alkhanshali didn't drink coffee, despite having deep connections to its birthplace. Born in England, Alkhanshali lived in Brooklyn until age 9, when his family moved to San Francisco. But both of his parents were born and raised in Yemen. "I saw coffee as part of my cultural identity," he says. "I remember as a child picking coffee cherries with my grandmother at her house in Ibb."
It wasn't until Alkhanshali tasted a cup of Ethiopian Yirgacheffe in a San Francisco café that a lightbulb went off. "I remember tasting blueberries and honeysuckle and this sweet, lingering aftertaste," he says. "I asked the barista about it, and he told me about the relationship they had with the grower. Right away I wanted to know where I could get Yemeni coffee, and nobody had it."
Fast forward five years, and today, at age 29, Alkhanshali is importing prized Yemeni coffees through his company, Port of Mokha, and his life is the subject of Dave Eggers' new book, The Monk of Mokha.
Yemen was the first country in the world to begin commercially cultivating coffee in the 16th century, with the sole supply of beans coming out of the Port of Mokha for more than a century. But drought, drug production and civil unrest led to the decline of coffee quality and supply until Yemen virtually dropped off the coffee map. Alkhanshali was determined to see that change. "I had no idea what I would have to go through educationally and physically," he says. "You could say I was naively arrogant. I just felt there was a big disconnect between Yemen and the coffee world, and I wanted to be the bridge."
I saw coffee as part of my cultural identity,"Alkhanshali says. "I remember as a child picking coffee cherries with my grandmother at her house in Ibb.
After Alkhanshali's aha moment in that San Francisco café, he researched and studied coffee obsessively, even training to become a certified Q grader from the Coffee Quality Institute. He spent three years traveling to more than 30 coffee-growing regions in Yemen, many accessible only on foot through the mountains. "I went through shootouts and explosions. I got tapeworm and malaria and gall bladder stones. I lost 49 pounds the first year," he says. "But I always say my journey was a beautiful struggle. I got to meet amazing people, and I knew there was something there."
Alkhanshali met with farmers and studied their practices, analyzing the climate, soil and elevations, and gradually he implemented a system he called the Mokha Method. He organized farmers into collectives, overseen by boards that had to be comprised by at least 50 percent women. He built modern drying beds and brought in moisture analyzers to aid in processing. He began to provide interest-free micro loans to farmers to free them from debt cycles. He would pay for weddings, medical surgeries and college tuitions in exchange for coffee cherries. His aim was to raise the quality level to a point where the farmers could be compensated at a higher rate and, thus, persuade more farmers to grow coffee and follow the best practices. "No matter how good the story is, you still have to have an amazing product," he says.
By the spring of 2015, Alkhanshali was ready to bring the coffee samples back to the U.S. to be judged at the Specialty Coffee Association conference in Seattle and to secure buyers. But on March 25, just days before he was scheduled to leave, the already-weakened government in Yemen collapsed, and overnight the country fell into chaos. "I woke up in the middle of the night to loud explosions. It was very scary, not knowing if I was going to live through to the morning," he recounts. "I found out that both civilian airports had been bombed and there was no way out of the country. I contacted the US State Department, and their response was, 'We can't help you right now, but we can relay messages to your loved ones.' "
Alkhanshali made his way to the Port of Mokha where he hired a fisherman to take him across the Red Sea—a journey that took seven hours without radio or navigation—to the shore of Djibouti. From there he was able to fly back to the U.S., miraculously making it in time for the SCA conference. He was interviewed by the BBC about his experience, and in the car on his way to the conference, he heard the interview on the radio. "The driver was saying to me, 'Man, this guy is crazy. It's amazing what he is doing for these coffee farmers, but he's crazy.' And I was like, 'Yeah, he's nuts.' "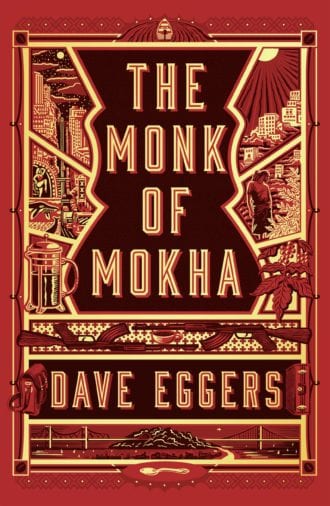 Alkhanshali's efforts paid off, with his Yemeni coffee receiving some of the highest ratings of the SCA conference, garnering support from roasters like Blue Bottle. "That meant a lot to me because I wanted people to respect the work of the farmers," he says. "And then seeing Blue Bottle sell it for $16 a cup and sell out in a month and half was amazing. I think as Americans, a lot of times we don't know where our food comes from, and if we knew the amount of effort it took, we would be okay paying a little bit more."
Less than a year later, the Coffee Review website named Port of Mokha's Hayma Microlot the number one coffee of the year, pointing not only to the coffee's exquisite qualities, but to the heroic work of Alkhanshali. Though he may shrug off the heroics, Alkhanshali's incredible story is now hitting shelves nationwide in Eggers' new book. The two men were introduced by a mutual friend when Eggers was working on an HBO project that included a Yemeni character. But when he heard Alkhanshali's story, Eggers knew it needed to be told. In order to write the book, he followed Alkhanshali around the world, interviewed his friends and family, and even took a Q grader class himself.
Though initially hesitant about being the subject of a book, Alkhanshali recognized the value in bringing more attention to Yemeni coffee. "When you exchange coffee with people, a cultural exchange happens—people learn about a country they know nothing about, other than what they see in news headlines," he says. "There isn't a family in Yemen, including my own, that hasn't been affected by this war. It's important to help people move from just maintaining existence to economic empowerment. Hopefully when the war does end, I will have laid the foundation for people to follow in my footsteps."
---
Like what you see? Get more of the best of liquid culture when you sign up for our bi-monthly magazine. Subscribe now and save up to 59%—it's just $21.95 for one year or $32.95 for two years. Click here for details.