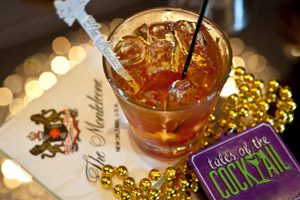 Planning a trip this July to Tales of the Cocktail? Here are some tips for making the most of your New Orleans adventure.
Tales of the Cocktail, the cocktail fête held every July in New Orleans, is ramping up for another great year, and with bottle-stocked tasting rooms, cocktail-fueled seminars and after-hours parties aplenty, it can easily become overwhelming, even for those who already know the lay of the land. So to help you make the most of the fest—whether this year marks your first or your fifth trip—we've gathered tips from some seasoned TOTC goers.
Arrive early. The festival officially kicks off on a Wednesday (with a line-up of pre-festival activities on Tuesday), so plan to fly in early enough to get your bearings before things get busy. "You'll want to get situated, scout out the different locations and get your bearings for the French Quarter," says co-owner of New York's Employees Only and co-founder of The 86 Company Dushan Zaric. "Plus, there are usually a lot of informal events the day before, and it's a great chance to network before people get too busy."
Pack extra clothes. Summertime in New Orleans can be brutally hot and humid, so Imbibe contributor and past TOTC seminar presenter Jenny Adams suggest packing more clothes than you think you'll need. "You'll definitely get sweaty," she says. "You might also get pushed in a fountain or hit with a squirt gun full of mezcal, and hotel laundry services are very expensive." Longtime Nola bartender and Tales attendee Chris Hannah says the same goes for shoes. "It might rain, and it will be humid," he says, "so bring shoes that could be left in New Orleans." And TOTC cofounder Ann Tuennerman reminds you not to forget your swimsuit for the killer rooftop pool at the Hotel Monteleone, the festival's host hotel and home base.
Bring a second duffel bag. Be sure to pack a fold-up duffel bag in your suitcase for all of the extra swag you'll be taking home. "That way, when you leave," says Jenny Adams, "you can fill your suitcase with free booze and then stuff your clothes in the duffel and just check both while you have a Bloody Mary at the airport." Just don't forget the bubble wrap—no one want to arrive home only to find their luggage soaked and reeking of alcohol.
Be strategic about seminars. With so many seminars to choose from, Dushan Zaric advises avoiding burnout by not attending more than three seminars a day and making sure to break for lunch in between. And what about those early-morning workshops? "That's usually when the best topics are up," says Zaric. So set the alarm and start planning.
Pace yourself. You don't need to finish every drink. "Cocktails flow freely at Tales of the Cocktail," says Imbibe contributor Paul Clarke, who will co-present several seminars this year. "And if you drink most or all of everything that comes your way, you'll be finished for the day before lunch even rolls around." Instead, just take a sip or two and move on. And TOTC cofounders Ann and Paul Tuennerman remind that it's a marathon not a sprint. "Start off with a slow burn and you'll survive the five days," they say.
Eat up. Don't skip breakfast—or lunch or dinner. Not only will eating help with your cocktails and spirits pacing, but New Orleans' vibrant culinary scene is well worth exploring. "A Ramos Fizz or a French 75 in the morning may sound great," says Paul Clarke, "but Eggs Sardou or a plate of jambalaya are better suited to get you through the day." And, of course, no trip to Nola is complete without a po'boy—favorites like Johnny's Po-Boys on Saint Louis Street and Tracey's on Magazine and Third are worth a side trip.
Hit the gym. Or the pavement. Or just do some yoga in your hotel room. Either way, "you've got to work out at least once every other day," says Dushan Zaric. "There's a lot to take in, and it can take a toll on your body, making you tired, burned out and looking a little grey around the edges." But a little exercise will recharge your battery and gear you up for more fun ahead.
Hydrate, hydrate, hydrate. It might sound obvious, but we've seen more than a few people who could use this reminder. And with plenty of free H2O everywhere, there's no excuse to not stay hydrated. Consider this your one exception to the rule on limiting consumption—drink the free water wherever you see it.
Practice the buddy system. "Never ever let a visibly intoxicated friend walk home alone," warns Chris Hannah, "or the cops will most likely take them to jail." Yes, you'll miss out on the rest of the fun, but it'll keep you from having to bail your buddy out later. And speaking of jailable offenses, Paul Tuennerman also warns against slapping a NOPO police horse on the rear—that's another one that will likely get a person thrown in the slammer (and who wants to be that person anyway?).
Go to bed. We can't stress this one enough. With all the revelry, you could easily stay out until the sun comes up, but Dushan Zaric suggests a 1 a.m. bedtime so you can make the most of the early-morning seminars. Plus, you'll want to save yourself for the Bartenders' Breakfast—the late-night closing party for Tales. Chris Hannah says he often remembers a piece of advice from spirits ambassador and frequent presenter Charlotte Voisey—"Go to bed, because at that late in the night, no one will remember you were there anyway. Get some sleep and don't make a fool of yourself."
Venture out beyond Bourbon Street. "The French Quarter is justifiably legendary," says Paul Clarke, "but New Orleans offers so much more to see." Ann Tuennerman suggests heading uptown to Cure and snagging a stool right when they open for a killer cocktail and a bit of peace and quiet. And Clarke says to be sure to swing over to the Garden District for dinner, ride a streetcar up St. Charles Avenue, and then take in the music on Frenchmen Street. When you tire of cocktails and get a hankering for beer, Chris Hannah says a side trip to any one of his favorite dives—Chucks, Claire's Pourhouse, Fahey's, all three Molly's locations, the Three Legged Dog, Cosimos, R Bar, Flanagans, Ryan's, Chart Room and Harry's Corner, just to name a few—should do the trick.
Make new friends. It might sound like an obvious tip, but people tend to stick to the same circles no matter where they are. So when you realize you're only hanging out with people you already know, introduce yourself to someone you don't already know. "I've made my very best friends in the last eight years of my life because of this event," says Chris Hannah. "Stay calm, drink well and enjoy yourself."