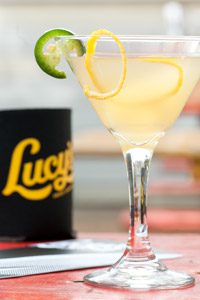 Get game-day ready with 10 tailgate-tested food and drink recipes.
With year-round sunshine and sports teams aplenty, tailgating is a regular weekend affair for many Texans. In our Texas Issue (March/April 2013), we feature the necessary accessories for a proper Texas-style tailgate, but equally important as the cooler and the cups is what you'll put inside—here are 10 food and drink recipes that'll have you game day-ready, wherever your tailgate takes you.
Grapefruit Margaritas
A batch of Margaritas is just the thing to kick off any parking-lot party, and this pitcherful brightens things up with a splash of grapefruit juice. Click here for the recipe.
Watermelon Mint Agua Fresca
Keep hydrated and refreshed with this mint-spiked melon cooler. Click here for the recipe.
Beer Pretzels
Beer and pretzels are the ultimate game-day combo, especially when the fused into one delicious snack. Click here for the recipe.
Pimento Cheese
Whether you use it as a chip dip or a spread for bread, this tangy pimento cheese is a must. Click here for the recipe.
DIY Bottled Americanos
Beer isn't the only bottled beverage you can enjoy come game day—these pre-batched bottled cocktails are a cinch to make with the right tools and offer a refreshing fizz to boot. Click here for instructions.
Tequila Marinade
Chicken and veggie skewers on the menu? Marinate them in this mix of tequila, citrus and cilantro for some great game-day grilling. Click here for the recipe.
Bee Sting Cocktails
If you can't beat the heat, join it! This tequila- and jalapeño-spiked cocktail can easily be multiplied into a batch big enough for your entire game-day crew. Click here for the recipe.
Chipotle- and Beer-Braised Tacos
Tacos + tailgating—a perfect pair! This beer-braised beef practically cooks itself—simply fill tortillas and serve. Click here for the recipe.
Blonde Ale Burger
One bite of these beer-spiked burgers and you'll never go back to a plain old patty. Click here for the recipe.
Mocha Brownies
In need of a sweet treat before the final play? Bite down on these coffee icing-capped brownies. Click here for the recipe.