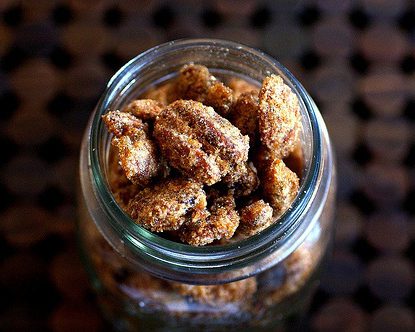 Deb Perelman adapted these addictive nuts from Elizabeth Karmel of Hill Country restaurant in New York City. Just be warned—they're so good you might want to double the recipe!
⅓ cup dark brown sugar
2/3 cup white granulated sugar
1-1 ½ tsp. kosher salt
¼ tsp. of hot smoked paprika (or a generous pinch of cayenne pepper)
1 tsp. ground cinnamon
1 lb. total of any combination of walnuts, pecan halves, whole almonds or peeled hazelnuts
1 fresh egg white, room temperature
1 Tbsp. water
Preheat oven to 300 degrees.
Mix sugars, salt, paprika (or cayenne) and cinnamon, making sure there are no lumps; set aside.
Beat egg white and water until frothy but not stiff. Add walnuts and stir to coat evenly. Sprinkle nuts with sugar/spice mixture, and toss until evenly coated.
Spread coated nuts in a single layer on a cookie sheet fitted with parchment paper. Bake for 30 minutes, stirring occasionally. Remove from oven, and separate nuts as they cool.
When completely cool, pour the nuts into a bowl, breaking up any that stick together.
Adapted by Deb Perelman, Smitten Kitchen