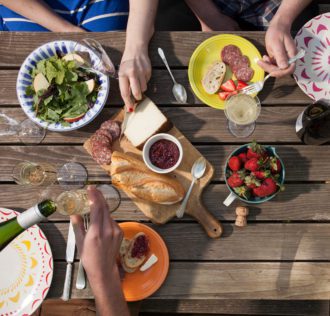 A guide to the best sparkling wines for warm-weather sipping. 
In our July/August 2013 issue, writer Ruth Tobias offers an informal crash course on summer-ready sparklers, and here, we check in with a few more fizz-o-philes on how to best buy bubbly for some of our favorite warm-weather occasions.
Backyard Brunches
Popping the cork on some a.m. sparklers? For summery, mid-morning celebrations, you want something crisp and refreshing, yet versatile enough to sip alongside the flavorful spectrum of a brunch spread. And you want something inexpensive (click here for 25 of our favorite sparkling wines under $25). For Henri Schock and Soni Dave-Schock, the husband and wife team behind Seattle's Bottlehouse, that go-to bottle is the Washington-made sparkling rosé from Treveri Cellars. "It's a brut-style rosé (so completely dry) and made using traditional methods, or methode champenoise," says Schock. "Flavors are complex but not too overbearing, with hints of fresh berries." Bonus? It makes a mean Mimosa! Speaking of Mimosas, Thierry Chouquet, the food and beverage director for Hotel Americano in New York City tops hers with Cremant de Limoux, a wallet-friendly French fizzer that offers all the chalk and limestone minerality of a Champagne, but without the budget-busting price tag. Add a few drops of orange flower water and a twist of orange zest, and you're got a fizzy brunch-time cocktail that can't be beat.
ALSO TRY:
Clos de la Briderie "Pureté de Silex" Crémant de Loire
Biodynamically farmed, hand-harvested and fermented with indigenous yeasts, this pale salmon-hued mix of Chenin Blanc, Chardonnay, Cabernet Franc and Cabernet Sauvignon offers big bang for the buck with brunch-friendly notes of fresh citrus, apple and pear and a trace of flint minerality and toast on the finish.
$17, linerandelsen.com
Domaine Collin Cremant de Limoux "Tradition" Brut
Chardonnay, Pinot Noir and Chenin Blanc make up this methode champenoise-styled sparkling rosé from Southwest France's Languedoc region. Consistent carbonation, bright fruit flavors and lively acidity make this bottle a complete package of deliciousness.
$14, winelibrary.com
Teutonic Wine Company Sparkling Rosé Brut 2011
This single-vineyard Pinot Noir rosé is round yet racy thanks to a combination of gravely soil and neutral-barrel fermentation. Only 84 cases were produced, so pop the cork on one while you still can.
$33, vinopoliswineshop.com
Afternoon Aperitifs
Hosting friends for an alfresco afternoon? Go for bubbly that won't weigh you down, "so you can carry on to your next summer function without a nap in the middle!" says Henri Schock. One option is to look for wines lower in alcohol (anything under 12.5 percent is great) from unexpected grapes and regions. "One of our favorites is the lightly effervescent bubbly from Punkt Genau in Austria," Schock adds. Comprised of 100 percent Zweigelt (a grape typically grown to produce red Austrian wines), "The flavors scream summer," Schock continues, "with hints of Bing cherry and minerals, all finishing clean to prepare you for your next sip." Thirsty for something sweeter? "In France, one drinks something with a bit of sweetness as an apéro to wake up the palate," says Cheryl Wakerhauser, owner of Bar Vivant in Portland, Oregon. She recommends sparklers made in the Méthode Ancestrale—wine that is partially fermented, cooled and then bottled to continue fermenting and trapping CO2 in the bottle—like Pas St Martin's La Vie en Rosé. And at aperitif hour, Thierry Chouquet pops the cork on the Prosecco di Valdobbiadene from Mionetto. Readily available in most wine shops and markets, "it's well balanced, extremely refreshing and versatile in cocktails," he says, "and will easily carry your palate on to your meal."
ALSO TRY:
Bruder Dr. Becker Scheurebe Sekt Extra Trocken
When it comes to geeky wine grapes, we can't get enough of the Riesling/Sylvaner hybrid Scheurebe. First grafted in 1916, it possesses all the racy acidity of a dry Riesling with a freshness all its own. This methode champenoise-produced sparkler comes in at 12.5 percent alcohol and is bottled with just a kiss of residual sugar invoking notes of pear, grapefruit and hibiscus.
$20, astorwines.com
Grange Tiphaine Rosa Rose Rosam
As fun to drink as it is to say, this light pink Methode Ancestrale bubbly comes from the Loire, home to some of the most innovative wine making that is happening right now in the world, let alone in France. Malbec-based, off-dry yet refreshing, it bursts with tart red berries. Sip this all summer long.
$22, flatiron-wines.com
Nino Franco Prosecco Rustico
As classic a Prosecco as they come, this 11-percent ABV aperitif offers up notes ranging from stone fruit flavors of peach and apricot to fresh-baked bread.
$16, astorwines.com
Burgers, Brats and Other Grilled Goods
Bubbles with barbecue? Yes! When temperatures top the high 80s, a heavy, alcohol-laden red is the last thing people will want to sip. Instead, opt for robust refreshers that have all the oomph of a big, burger-ready bottle, but with a perked-up palate thanks to a zippy effervescence. For Thierry Chouquet, that translates to Spain's lively cavas, which he says both compete with and complement char flavors. "Domaine Raventós i Blanc will do the work," he says. Cheryl Wakerhauser prefers pink alongside grilled goods, pouring deep-colored rosés with a bit of tannin and earthiness. "We are not talking strawberries from Provence!" she says. "Think Trepat from Spain, a rosé saignée Champagne or a sparkling Cabernet Franc from the Loire." And for the year-round red-heads, sparkling dry Lambrusco is your bottle. "We absolutely love breaking out Lambrusco for summer grilling!" says Henri Schock, who suggests popping open a bottle of Ca' Montanari Opera Lambrusco Secco. "This wine is dry (secco) and very refreshing," he says, "with elegant aromas and dark fruits on the palate that make it a great match to grilled meats."
ALSO TRY:
Agustí Torelló Mata Rosat Trepat
This ruby-hued Spanish sparkler is made from 100 percent Trepat, a grape native to the Penedès region (also home to Cava). It strikes an alluring balance of sophisticated rusticity with brambly berry flavors, garden-fresh mint and never-ending bubbles.
$30, astorwines.com
Naveran Cava Brut Vintage 2010
A blend of Macabeo, Xarel-lo and Parellada, this cava from Catalonia benefits from eighteen months on its lees, which lends depth as well as the toasted brioche note so typically found in Champagne. Sweet lemon and a hint of salinity on the finish round out this beautiful steal of a sparkler.
$13.50, linerandelsen.com
The Red Brute
A sparkling wine for Shiraz-lovers, this Australian bubbly is rich and spicy, with deep, dark, sweet berry flavors and a lovely color to match. Heavy enough to stand up to richer foods, it will be especially at home at summer barbecues and on picnic tables.
$25, drinkupny.com