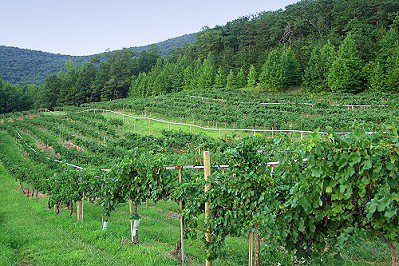 As Virginia's wine country continues to make a name for itself, other states throughout the South are cultivating wine grapes with just as much gusto. From the sandy loam of the Arkansas River Valley to the mineral-rich soil of the Blue Ridge Mountains, here's a peek at some of what's happening with wine throughout the region.
ARKANSAS
Arkansas's viticultural roots date back to the 1880s, when Europeans settlers, who were lured by railway work, set about planting grapevines in the Arkansas River Valley. Today, the Natural State is home to three AVAs (American Viticultural Areas) and a handful of wineries that produce everything from Chardonnay and Cabernet to Cythiana, a hybrid grape that grows with abandon throughout the region.
Where to Visit:
Chateau Aux Arc
Pronounced "Ozark," Chateau Aux Arc is among Arkansas's newest wineries, but with some of the oldest vineyards—in 1998 owner Audrey House purchased land that included part of the state's first Chardonnay plantings. Since then she's added to her holdings, bringing the estate's total up to 50 acres of Chardonnay, Cabernet Sauvignon, Zinfandel, Cynthiana and Müller Thurgau among other varietals. The 5,000-square-foot French chateau-inspired tasting room and outdoor picnic tables provide a stunning backdrop for wine tasting.
8045 Champagne Dr., Altus, AR; 479-468-4400; chateauauxarc.com
Cowie Wine Cellars
In a Paris of a different sort, Robery Cowie started his winemaking career in 1955. Today Cowie Wine Cellars crafts a number of Cynthiana, muscadine and fruit wines, while playing host to a two-room bed and breakfast, the Arkansas Historic Wine Museum and an annual amateur winemaking competition.
101 N. Carbon City Rd., Paris, AR; 479-963-3990; cowiewinecellars.com
Post Familie Vineyards & Winery
The first commercial vineyard in Arkansas, Post Familie Vineyards & Winery was established in 1880 by German immigrant Jacob Post and has since become the state's largest winery. Today's fifth generation of Post vintners cultivate more than a dozen varietals ranging from Cabernet Sauvignon and Chardonnay to the Post No. 194, an experimental grape hybrid the family developed after years of trying to cross-breed native American wine grapes with European ones.
1700 St. Mary's Mountain Rd., Altus, AR; 479-468-2741; postfamilie.com
Weiderkehr Wine Cellars and Vineyard
Also established in 1880 by a European immigrant, Weiderkehr Wine Cellars crafts more than two-dozen wines, ranging from Chardonnay and Vidal Blanc to Cabernet and even a red muscadine. Visitors can also stop for a bite in winery's original, hand-dug cellar, which is on the National Register of Historic Places and now operates as the European-themed Weinkeller restaurant.
3324 Swiss Family Drive, Wiederkehr Village, AR; 479-468-WINE; wiederkehrwines.com
GEORGIA
It may be known as the Peach State, but wine grapes have taken hold throughout Georgia's northern region. With 37 bonded wineries and cellars, most within an hour's drive of Atlanta, it's easy to escape to the breathtaking splendor of the Blue Ridge Mountains and get a taste for the state's budding wine scene.
Where to Visit:
BlackStock Vineyards
A pioneer of Georgia's wine renaissance, David Harris launched BlackStock Vineyards in 1998 after two decades of working for other wine labels. A graduate of Fresno State's viticulture and enology program, Harris produces all estate-grown wines from his 90-acre parcel dedicated to Viognier, Sangiovese, Merlot and Mourvedre.
5400 Town Creek Rd., Dahlonega, GA; 706-219-2789; bsvw.com
Château Elan
Combine a 16th-century-style château with a hearty dose of southern hospitality and you'll get Château Elan, a 200-acre estate framed by vineyards of Chambourcin, Chardonnay, Merlot and Cabernet. And aside from wine, the estate is also home to a 275-room hotel, golf course, and day spa.
100 Tour de France, Braselton, GA; 800-233-9463; chateauelan.com

Crane Creek
West Point alum and Army officer, Eric Seifarth and his wife, DeAnne, a practicing veterinarian, planted their first vines at Crane Creek in 1995 after spending several years abroad in Italy. Their half-dozen labels mostly eschew classic European varietals in favor of American hybrids with a proven track record in the region. Pop into their tasting room and try their Vidal Blanc, Seyval Blanc or Traminette, which is a cross between Gewürztraminer and Seyval Blanc.
916 Crane Creek Rd., Young Harris, GA; 706-379-1236; cranecreekvineyards.com
Frogtown
This 46-acre estate includes a three-story gravity-flow winery and vineyards planted with 25 different varietals including Cabernet Franc, Tannat, Malbec, Marsanne and Rousanne—all over-looking a picturesque three-acre lake.
700 Ridge Point Dr., Dahlonega, GA; 706-865-0687; frogtownwine.com
Habersham Vineyards & Winery
Dry county meets insistent vintner at Habersham (pictured above). Considered the granddaddy of Georgia winemaking, founder Tom Slick first planted vines in 1980, but didn't receive a license to make wine until after his first big harvest. In 1998 the winery moved to its current location in touristy Nacoochee Village where guests can stop in for a tour and then visit the neighboring antique shops, café and restaurants.
7025 S. Main St., Helen, GA; 706-878-9463; habershamwinery.com
KENTUCKY
Modern Kentucky may be bourbon country, but before Prohibition, the state was the third largest wine producer in the country. Since then, the Bluegrass State has set about rebuilding its vinified history with 75 wineries scattered mostly throughout the state's central and northern regions that produce everything from Vidal Blanc and Chambourcin to Cabernet Franc and Chardonnay.
Where to Visit:
Chrisman Mill
What began as a hobby for Chris and Denise Nelson, who crafted their first wine to commemorate their 1992 nuptials, launched into full-on business plan that includes a mix of Seyval Blanc, Norton, Cabernet Franc and Vidal Blanc, among others, crafted with fruit grown in their own vineyards as well as the surrounding community.

Smith Berry
In 2002, with the tobacco industry in decline, the Berry-Smith family made a risky investment and ripped out their tobacco crops to plant American hybrid wine grapes instead. That gamble, which has entailed plenty of hard work, has paid off for these life-long farmers, who also raise organic livestock, employ grazing sheep to trim and fertilize the vineyards, and fine their wines with egg whites from their free-range chickens.
855 Drennon Rd., New Castle, KY; 502-845-7091; smithberrywinery.net
Wildside Winery
Aside from trellised grapevines, the 30-acre estate of Neil and Rachel Vasilakes is home to peaches, apples and wild sunflowers. Since they began planting in 2007, the Vasilakes produce more than a dozen wines including a Cabernet that's finished in used bourbon barrels from Woodford Reserve and locally grown fruit wines.
55 Troy Pike, Versailles, KY; 859-879-3982; wildsidewinery.com
NORTH CAROLINA
Perhaps most famously home to the scuppernong, a member of the muscadine family that's used to make an often sticky, sweet wine, North Carolina's burgeoning wine scene has all-but exploded in the past two decades. When tobacco started its steep descent, many farmers were in search of ways to sustain their land, and some turned to wine grapes as a solution. Today, the Tar Heel State is home to three separate AVAs and more than 130 wineries and cellars producing everything from classic European varietals to American hybrids.
Where to Visit:
Laurel Gray Vineyards
Situated on an 84-acre former cattle and tobacco farm, Laurel Gray is only eight miles from where founder Benny Meyers's English ancestors settled more than two centuries ago. Since planting 10 acres of Chardonnay, Viognier, Cabernet Franc, Merlot and Petite Verdot, among other European varietals, in 2001 the Meyers family has expanded the estate to include a 10,000-case capacity winery and a renovated 1930s milking parlor that now serves as their tasting room.
5726 Old U.S. Hwy. 421 W., Hamptonville, NC; 336-468-9463; laurelgray.com
McRitchie Winery & Ciderworks
From Oregon to Australia, McRitchie founder, Sean McRitchie worked in countless wineries and vineyards before launching his own estate in North Carolina. Today he crafts a handful of sustainable, estate-grown wines, ranging from a Sangiovese rosé to a sparkling wine made from the American varietal, Niagara. And for hard cider fans, he also produces semi-sweet and dry ciders from handpicked heirloom cider apples.
315 Thurmand PO Rd., Thurmond, NC; 336-874-3003; mcritchiewine.com
Shelton Vineyards
With land purchased at an auction in 1994, brothers Ed and Charlie Sheldon set out to establish a winery just miles from where the two grew up. Stop by their spectacular 33,000-square-foot winery and taste through winemaker Murphy Moore's lineup of wines crafted from estate-grown European varietals like Cabernet, Viognier and Riesling.
286 Cabernet Ln., Dobson, NC; 336-366-4724; sheltonvineyards.com
Westbend Vineyards
First planted with Chardonnay, Cabernet, Riesling and Sauvignon Blanc in 1972, Westbend Vineyards's 10-wine production includes several Cabernets, a barrel-fermented Chardonnay and a bottle of bubbly.
5394 Williams Rd., Lewisville, NC; 336-945-5032; westbendvineyards.com
TENNESSEE
Like most states during the early 1900s, Tennessee was home to numerous small, family-owned vineyards. But Prohibition brought an end to Tennessee viticulture, and it would take another 70 years for the state's winemaking revival to begin. Today, Tennessee's wine industry is growing in spades with a new generation of vintners setting down their roots.
Where to Visit:
Arrington Vineyards
Country legend, Kix Brooks (of Brooks & Dunn fame) parlayed his passion for good vino into launching Arrington with a handful of friends in 2005. The 75-acre hillside estate produces a handsome mix of Chardonnay, Riesling, Gewurztraminer, Cabernet at Syrah, among others varietals, and all within a mere 25 minutes from Nashville.
6211 Patton Rd., Arrington, TN; 615-395-0102; arringtonvineyards.com
Beachaven Vineyards & Winery
Founded by the harbinger of Tennessee's modern wine revival, Judge William O. Beach, Beachaven produces a mix of dry, sweet and sparkling wines from European, American and hybrid varietals like Chardonnay, Seyval Blanc, Chambourcin and Cabernet Sauvignon. Plan a visit during their summertime Jazz on the Lawn series and relax amid good tunes and a bottle of wine.
1100 Dunlop Ln., Clarksville, TN; 931-645-8867; beachavenwinery.com
Highland Manor Winery
Tennessee's first licensed winery, Highland Manor employs hand-harvesting and stainless steel fermentation for most of their wines, including the Seyval Blanc, Chardonnay, Merlot and Cabernet Franc. Located on the Cumberland Plateau in northeastern Tennessee, Highland Manor is about two hours from Knoxville and about 25 minutes from the 3,000-acre recreational Scott State Forest.
2965 S. York Hwy., Jamestown, TN; 931-879-9519; highlandmanorwinery.net

TEXAS
Believe it or not, winemaking in Texas dates back to two centuries before it even became a state. Franciscan monks planted grapevines alongside their missions in the 1660s, and today Texas is the fifth-largest wine-producing region in the country. Home to eight different AVAs that cover millions of acres throughout the state, Texas's more than 250 different bonded wineries and cellars generate more than $1 billion in combined revenue annually.
Where to Visit:
Becker Vineyards
It's hard to miss Becker Vineyards about 70 miles west of Austin—their 10,000-square-foot winery is made to resemble an ancient German stone barn. Their tasting room is open seven days a week and pours a mix of their 20+ offerings, and be sure to take a few extra minutes to meander through their three-acre lavender field behind the winery. Better yet, book a room in their homestead bed and breakfast and tuck yourself in for the night.
464 Becker Farms Rd., Stonewall, TX; 830-644-2681; beckervineyards.com
Bell Mountain Winery
Named for Texas's oldest and smallest AVA that this winery calls home, Bell Mountain planted their first vineyard in 1976 and today bottles estate-grown Cabernet, Merlot, Chardonnay, Pinot Noir and Riesling.
463 Bell Mountain Rd., Fredericksburg, TX; 830-685-3297; bellmountainwine.com
Calias
French import Benjamin Calias opened this boutique urban winery Dallas's Deep Ellum neighborhood just two years ago and has since become a local favorite for his Syrah, Cabernet, unoaked Chardonnay and Port-style dessert wine.
3000 Commerce St., Dallas, TX; 214-453-2548; calaiswinery.com
McPherson Cellars
Built in Lubbock's 1930s-era Coca-Cola bottling plant, McPherson Cellars was founded in 2000 by Kim McPherson, but his family's winemaking roots date back to 1976 when his father, Clinton McPherson, a chemistry professor at Texas Tech, joined a colleague to found the state's first post-Prohibition winery. In the years since, Kim went on to graduate from UC Davis's viticulture program and launch McPherson Cellars, which focuses on Rhône, Spanish and Italian varietals.
1615 Texas Ave., Lubbock, TX; 806-687-9463
Val Verde Winery
Founded in 1883 by Italian immigrant Frank Qualia, Val Verde is the oldest bonded winery still in operation in Texas and sits mere miles from the Mexican border. Qualia was among the first to vinify the Texas-native Lenoir grape, and today third-generation winemaker, Thomas Qualia still crafts this primary varietal along with other more-recognizable wines.
100 Qualia Dr., Del Rio, TX; 830-775-9714; valverdewinery.com