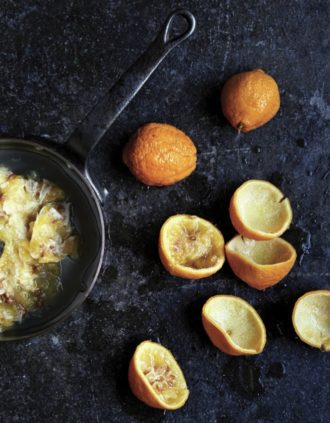 A goodly glug of whisky adds a kick to a classic breakfast marmalade.
3 lbs. Seville oranges
6 cups water
2 lemons
11 ¼ cups (5 lbs.) granulated sugar
¼ cup Scotch
Scrub the oranges well under running water, and then place them in a large, deep stockpot. Add 4 cups of the water and bring to a boil over medium heat. Reduce heat, cover and simmer gently until the oranges are very soft, about 1 hour. Using a slotted spoon, rotate the oranges from time to time so they cook evenly. Leave the oranges in the pot to cool. Once they are cool enough to handle, remove them with a slotted spoon; set the cooking water aside.
Cut the cooked oranges in half, then, using a spoon, scoop out the flesh, seeds and pith into a saucepan. Add the remaining 2 cups of water to the pan and bring to a boil; lower the heat and simmer, uncovered for 10 minutes. Strain this mixture through a fine-mesh sieve into the pot with the cooking water from the oranges. Discard the pith, flesh and seeds.
While the water mixture is cooking, cut the orange halves in half again and then finely chop or shred. Add the shreds to the pot containing the orange cooking liquid. Now zest the lemons and squeeze their juices. Add the lemon zest and juice, as well as the sugar to the pot.
Place the pot over medium-low heat and stir to dissolve the sugar. Once the sugar has dissolved, increase the heat and bring to a boil. At this stage, the marmalade must be watched carefully, as it boils up quickly. Clip a sugar thermometer to the pot and cook over high heat for 20 minutes, or until the jam reaches 220 degrees F.
Transfer the pot to a trivet and leave for 20 minutes. Stir to distribute the orange shreds, and add the whiskey. Ladle the jam into warm, dry, sterilized jars, filling to within ½ inch of the top. Stir the jam in each jar to distribute the orange shreds, then wipe the edges of the jars clean. Cover and process in a boiling water bath for 15 minutes.
Makes about 12 1-cup jars.
Reprinted with permission from Bitter: A Taste of the World's Most Dangerous Flavor by Jennifer McLagan. Published by 10 Speed Press, an imprint of Random House