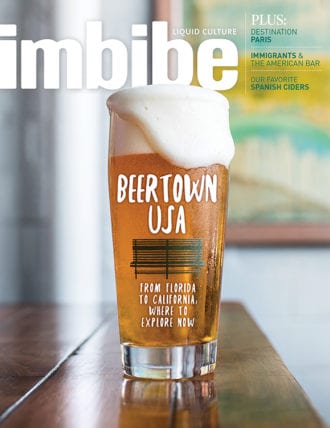 There are days I'd like to open a time capsule containing materials from one, two or 10 years past, just to get some sense of perspective on how much the world's changing around me. And whether that material is old newspapers or back issues of Imbibe, the differences we're seeing between the recent past and the present are in some cases astounding.
One year ago, in the heat of election season, immigration was one of the most contentious issues. Now, as the country wrestles with what changes in immigration policy might mean, Wayne Curtis explores the historical and ongoing relationship between immigrants and bars.
Surprising changes are also happening on a more focused level in the drinks world. For years, places such as San Diego, Seattle and Asheville, North Carolina, have been at the heart of any craft-beer conversation, but increasingly cities like St. Petersburg, Florida, and regions like New York's Hudson Valley are flexing their beer muscles; Joshua Bernstein takes us on a tour of some of these lower-profile beer destinations.
Any comparison between past and future invariably evokes Jetsons-style images of robots and flying cars, and while you may still need a standard set of wheels to get to your favorite coffee shop, Tim Carman explains how technology is changing the café.
Italian wine is undergoing changes, too, and wine drinkers and sommeliers are finding lots to love from the land previously known for low-budget Lambrusco; Jennifer Fiedler also looks at Italian wine's latest renaissance. Great bars also come and go over time, and Lew Bryson recalls a few lost favorites (and celebrates a survivor). And even though Paris has a cocktail connection that stretches back a century, bartenders are continuing to elevate the city's cocktail credentials, as Katie Parla reports.
But some things remain refreshingly familiar. The herbal liqueur Chartreuse has stayed relatively the same for centuries, and Carrie Allan looks at its use in cocktails. Spanish sidra, or cider, also retains its historic identity, as does the classic Gibson—we've got those, too. And despite larger changes in the drinks world, San Francisco bartender and bar owner Thad Vogler maintains a solid level of integrity in his bars, and his drinks—Jordan Mackay shares his story.
On the web, we've got a few goodies to cut your teeth on while you wait for the print issue to arrive.
Here's hoping this issue of Imbibe brings you a touch of stability in a quickly changing world.