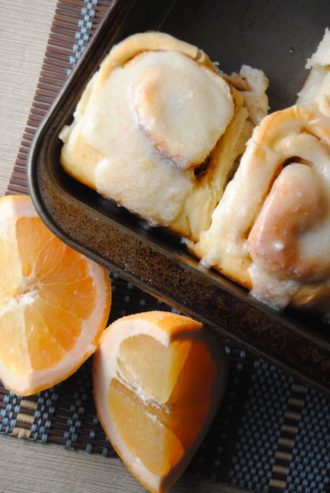 Cookbook author and blogger Lisa Fain is sweet on Texas' star citrus—the Ruby Red grapefruit. "It's so juicy it can ruin you for other grapefruits," she writes in The Homesick Texan Cookbook. That said, those outside the Lone Star state (including Fain—she now calls NYC home) can still get a taste of her Texas-inspired breakfast buns by swapping in a sweet orange or a combo of orange and pink grapefruit for the Ruby Red.
For the Rolls
1 Tbsp. yeast
½ cup warm water
1½ tsp. Ruby Red grapefruit zest
½ cup Ruby Red grapefruit juice
¼ cup granulated sugar
½ tsp. kosher salt
1 large egg, beaten
2 Tbsp. unsalted butter, melted
3 cups all-purpose flour, plus more for kneading
For the Filling
2 Tbsp. granulated sugar
1 tsp. ground cinnamon
1 tsp. Ruby Red grapefruit zest
4 Tbsp. unsalted butter, room temperature
For the Icing
2 cups powdered sugar
6 Tbsp. unsalted butter, room temperature
¼ cup Ruby Red grapefruit juice
2 tsp. Ruby Red grapefruit zest
1 tsp. vanilla extract
¼ teaspoon kosher salt
Mix the yeast with the warm water and let it sit for 5 minutes.
Stir in the zest, juice, sugar, salt, egg, butter, and 1 cup of the flour. Mix together until a lumpy batter is formed. Slowly add the remaining flour until a soft, pliable dough comes to­gether. Don't worry if it's sticky.
Cover and let it rest for 15 minutes. After it's rested, turn dough out onto a floured surface and knead for 5 minutes until it's smooth. Place dough in a bowl, cover, and let rise until it's doubled in size, about 11⁄2 hours.
Grease a 9-by-13-inch baking dish. On a floured surface, roll out the risen dough into a large rectangle, about 9 by 13 inches, with the longer side facing you. For the filling, mix together the sugar, cinnamon, and zest. Spread the butter on the dough and then sprinkle the cinnamon mixture over the butter.
Starting on one of the long sides, roll the dough and pinch ends to seal. Cut off 1-inch slices from the rolled dough and place sliced rolls in the baking dish. Cover and let rise for an hour.
Preheat the oven to 375 degrees F. Bake rolls until golden brown, about 15 minutes. While rolls are baking, for the icing whisk together the powdered sugar, butter, juice, zest, vanilla, and salt. Spread onto rolls when they come out of the oven.
Makes 15 rolls.
Reprinted with permission from The Homesick Texan Cookbook by Lisa Fain. Copyright © 2011 Lisa Fain. Published by Hyperion. All Rights Reserved.